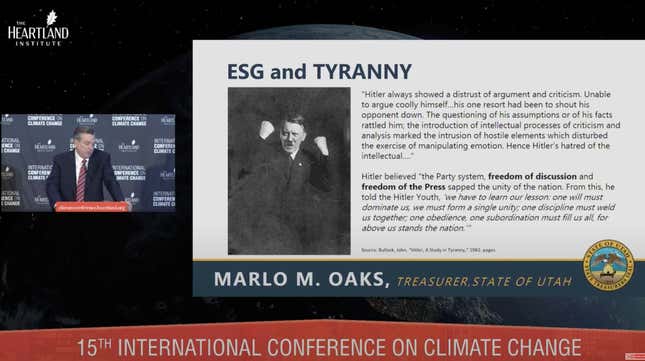 Calling all asset managers, mid-tier bank employees, and financial sustainability advocates: You're in league with the Devil, according to Utah's State Treasurer.
Taylor Lorenz Talks "Extremely Online"
Marlo Oaks, who was appointed to the Treasurer position in 2021 and reelected in 2022, told a crowd over the weekend that environmental social governance, or ESG—the practice of making investments using social and environmental principles—is an "outcomes-based" plan, like the biblical "war in Heaven." The comments, which were first reported by the Salt Lake Tribune, were made at the Salt Lake County Republican Party Convention last weekend.
"Outcomes-based governance like the UN's [Sustainable Development Goals] and ESG opens the door to authoritarianism," Oaks said. "It is Satan's plan."
Oaks' office told the Salt Lake Tribune in an email that the Treasurer's "use of scripture was an attempt to speak to an audience that might understand the example and illustrate the problem with systems that attempt to push outcomes on everyone. His opposition is to coercion as a mechanism in society."
We reached out to Oaks' office for further comment. In an email, a representative reiterated what his office said to the Tribune and said that Oaks' "opposition to ESG is not opposition to the underlying issues addressed by ESG." Oaks has a sister who was affected by the California wildfires, the representative wrote, but Oaks says that ESG "will not result in solutions to environmental and social challenges. It may help some people feel better about their investments, but its coercive nature should scare us all."
It's hard to imagine a world in which anyone would think that the relatively benign practice of ESG, once the purview of greenwashy shareholder reports, is somehow the devil's work. Yet the Republican party has ramped up its war on ESG over the past few years to a fever pitch, enacting a slew of anti-ESG state laws, trying to make federal laws against it, and making opposition to ESG a centerpiece of their anti-left ideology. It's not particularly surprising that we've reached this point. (Through his representative, Oaks said that ESG ignores "the very real human cost of boycotting fossil fuels" and that its "coercive tactics" mean that "capital is not going to where it would normally go—to profitable projects in the oil and gas industry.")
This isn't the first time Oaks has talked about ESG; on the contrary, good ol' Marlo is kind of obsessed with ESG. His Facebook page has multiple fliers advertising various talks he's given on the topic since 2021. Oaks ascended to the top of the pyramid for climate deniers this year: he gave a talk titled "The Dangers of ESG" at the Heartland Institute's International Conference on Climate Change, where he was introduced as "an absolute leader on ESG issues." (One of the slides in the 45-minute presentation was titled "ESG and TYRANNY" and included a photo of Hitler.)
Unlike a lot of the blowhards who wax poetic about the evils of ESG on Fox News, Oaks is a guy who is actually materially involved in determining the finances of an entire state—and he's put the state's money where his mouth is. Last fall, Oaks went as far as to divest $100 million of state public funds from BlackRock to other investment managers. (A spokesperson for the larger state retirement system told the Tribune it still had around $6.8 billion sitting in BlackRock management, with no changes being made for ESG-related reasons.)
During his recent speech, Oaks also claimed that the UN's Sustainable Development Goals "have widely been touted by UN leaders as the master plan for humanity" and were partially created by the Chinese Communist Party. Oaks' office sent the Tribune articles to back up this claim that were from the Epoch Times, a paper connected with the Falun Gong religious cult that has been known to spread right-wing conspiracy theories and misinformation.
We asked Oaks' office to provide us with evidence that the UN Sustainable Development Goals were created by the CCP that was not from the Epoch Times. The office sent links to a report citing Chinese funding in UN initiatives, as well as two UN reports on projects tied to China's Belt & Road Initiative.