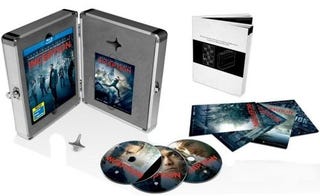 Remember the gadgets that put people to sleep in Inception? The European limited edition Inception Blu-Ray set is packaged in briefcases just like the ones that housed those devices. There's even a totem included, but I wouldn't trust it.
The Blu-Ray set will be available on December 6 and cost about $46. There's no word on when the US edition will show up. [Play via Screen Rant via Engadget]
Update: The set pictured is a Blu-ray set and not a DVD set. (Though both will be available at the same time.) We also told you about this earlier in the day. Pardon the accidental repeat.