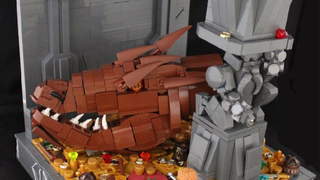 Now this is creative - Flickr User and Lego fan Finn Tegotash made this brilliant recreation of Bilbo's confrontation with Smaug in The Desolation Of Smaug, building Smaug's lego-y face out of a cavalcade of brown pieces - including scales created built out of little lego chair pieces.
Finn made the diorama for part of a custom build contest at Mocpages, and it's packed full of great details - discarded Lego Gimli helmets among Smaug's gold, the brilliant Dwarven statue supporting the column Bilbo is hiding behind, and of course the brilliant Smaug itself:
His eyes - actually the eye of Sauron found inside Lego Saruman's palantir - even light up! I also particularly love the use of string threaded between the Lego base to recreate dwarven runes (they read 'Smaug' apparently). From top to bottom, this is a pretty bloody fantastic display!
Also, a million times better than the Lego Smaug we actually got.
---
You're reading Toybox, io9's blog for all things pop culture. From merchandise to awesome fan creations, TV recaps and critical commentary on the hot topics of the day, you can find it all here!