The Marvel Age of Comics Tumblr posted this page from X-MEN #9 by Jack Kirby and Chic Stone, and you can still see Kirby's border notes, where he spells out each panel's subtext beat by beat.
Since the notes at the top and bottom of the page are difficult to read, here's the transcript:
HEY! CUT IT OUT!

WHAT'S WITH THIS HEAVY HAMMER?

I'LL TOSS IT RIGHT BACK

LOOK OUT!

THIS ISN'T YOURS
---
If you hunt around the Internet, you can find tons of Kirby pages with these margin notes. For example, Brian Bendis posted this page from THOR #175 by Jack Kirby and Bill Everett:
---
For folks familiar with the "Marvel Method" of comics scripting, these notes should come as no surprise. After all, it was common for artists to layout and draw a comic before the writer even began thinking about the dialogue—sometimes from an extremely rough story idea (and sometimes on their own). These notes would have told the writer what kind of dialogue to include in each panel. Looking at Kirby's margin notes on the page, however, offers an especially clear sense of what a keen builder of stories he was, crafting pieces that are compelling even before you read the dialogue.
G/O Media may get a commission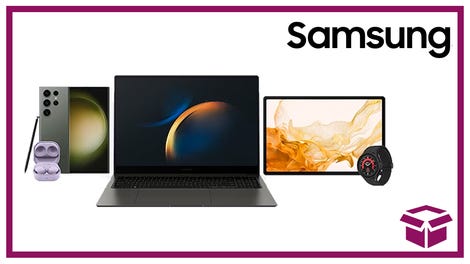 24 hour deals
Discover Samsung - Daily Deal
Norris Burroughs at the Jack Kirby Museum wrote an especially interesting post earlier this year about what the notes on Kirby's pages tell us about his development as an artist and writer. Burroughs says that he initially believed that Kirby began working according to the Marvel Method with Stan Lee around 1965, but a series of discarded pages from 1962 had him rethinking that theory.
Burroughs posts a handful of pages that Kirby tore up and threw in the trash after a meeting with Lee. Unlike these pages, they contain no Kirby margin notes, but some of the pages do include notes from Lee. Burroughs posits that this means that, as far back as 1962, Kirby was plotting and laying out stories, and then bringing them into the office so he could guide Lee through the dialogue process. By including margin notes on his pages, however, he could simply mail the pages to the writer, no office visits necessary.
A page from X-MEN #9 by Jack Kirby and Chic Stone [The Marvel Age of Comics via John Hodgman]
Writing Comic Books Marvel Style [John Rozum]
Margin Notes part 2 [The Jack Kirby Museum]