It feels like every beloved action, comedy, or action-comedy franchise is getting rebooted with new series and sequels. Jurassic Park, Spider-Man, and, of course, Independence Day. In a way, it makes sense. As Will Smith has pointed out, we love nostalgia. But it turns out, that's exactly why he stayed away.

In a Facebook Live chat, Smith said he specifically chose Suicide Squad over Independence Day: Resurgence because he didn't want to go "backwards," meaning returning to an old franchise instead of embarking on something new. This contradicts earlier statements from both Smith and director Roland Emmerich, who had said it was a timing issue. As a result, Smith's character was killed off in between films, with his son taking up his mantle.
"I had the two screenplays in front of me for the Independence Day 2 and for Suicide Squad. I had to choose between the two of those," Smith said. "Even the choice of going to Suicide Squad—nothing about the qualities of the movie—but the choice of trying to go forward versus clinging and clawing backwards. I do want to aggressively go forward and do new things and create and hopefully be able to stumble upon a new heyday."
G/O Media may get a commission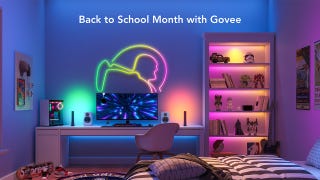 Back to School
Back to School Month with Govee Sale
Of course, you have to take all of that with a grain of salt. Smith returned to the Men in Black series in 2012, and he will be starring in not one, but two, sequels in the Bad Boys franchise. That might be more out of genuine love for the story, characters, and co-star Martin Lawrence. But Bad Boys did premiere a year before Independence Day, so the Member Berries are there—something Smith himself acknowledged back in February.

"The world is in a place of nostalgia right now. And specifically in entertainment, there's such a pull for nostalgia," Smith said.
Right now, Smith is starring in Collateral Beauty, his latest December attempt to win the Oscar he's been denied twice before. Still no confirmation on a Suicide Squad sequel, but given the financial success of the original, it's only a matter of time.