Writing something down in a paper notebook is so satisfying. But digital backup is so reassuring. Wouldn't it be great to have both? That's the idea behind the Evernote Smart Notebook by Moleskine. So does taking a bunch of pictures of your pages really work?
What Is It?
A Moleskine notebook lined with dotted rules or graphs, designed to aid text recognition when photographed by a smartphone running Evernote's scanner-like Page Camera app.
Who's It For?
Someone who takes a lot of notes, doesn't want to lose them, and wouldn't mind being able to sort them using a search engine.
G/O Media may get a commission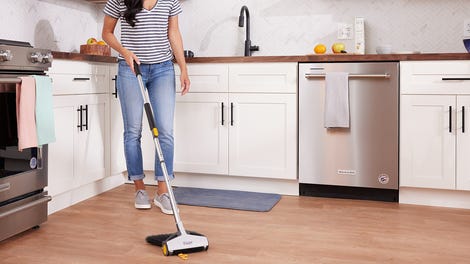 BOGO 50% Off
Flippr - BOGO 50% Off
Design
Like any Moleskine, it's sturdy and well-made. This uses a set of colorful stickers to tag pages so they upload to specific Evernote folders. The front cover, embossed with the Evernote elephant and various other ClipArt-y things, is kind of lame.
Using It
Write on paper, then take a photo. The Evernote app helps you frame the notebook page inside the borders of a simulated Moleskine.
The Best Part
Writing in a Moleskine notebook is always nice, and it's even nicer to know all your scribblings can survive theft, fire, or sudden inundation.
Tragic Flaw
The stickers are useful—you can use them to organize pages into different Evernote notebooks—but they're iOS only. So the only exclusive feature the Smart Notebook offers only works on iOS.
This Is Weird...
Notes written on unlined paper uploaded just as cleanly as the Smart Notebook pages.
Test Notes
Tested my handwriting in the Evernote Smart Notebook, a college ruled spiral notebook, and on unlined printer paper, using the same text each time. I uploaded all three samples from both the iOS app and the Android app, and searched specific phrases to check the documents' accuracy.
Text-recognition worked only with printed words, and failed with my cursive. Then again, my cursive is abysmal.
College-ruled paper is not a viable substitute for the Evernote Moleskine.
The text-recognition is equally good on either the iOS or Android platform.
The stickers work great (on iOS only). The first time you use one, it creates a notebook with a default name (which you can change). The app collects all sticker-wearing notes together for quick organization.
Text-recognition doesn't seem to work for non-English words.
Each notebook has a code for three months of Evernote Premium on the last page. Use it! Otherwise, you'll blow right through your free upload allowance of 60MB.
Should You Buy It?
Evernote Smart Notebooks work well, but the underlying Evernote service is good enough that you don't really need the special notebook to get the best out of it. But this is still a good buy if you need a new Moleskine anyway. The Smart Notebook's biggest value is that includes three months of Evernote Premium. That service normally runs $5 a month, and the 3.5-inch x 5.5-inch Moleskine normally costs $12—so you save two bucks.
Beyond that, you get a notebook designed to make digitization as easy as possible. The stickers are a nice bonus, if you're on iOS—on Android, you could make the case that you're better off taking notes on unlined paper and just uploading them using Evernote's excellent Page Camera.

Evernote Smart Notebook by Moleskine
• Price: $25 (Small), $30 (Large)
• Size: 3.5 x 5.5 inches (Small), 5 x 8.25 inches (Large)
• Gizrank: 3.5