The PSP Go! is official and it looks great. Check out the features of what could potentially be a Nintendo DS—and iPod Touch—killer, along with the Playstation and Media Go store.
Technical features
• 3.8-inch LCD screen.
• Sliding control pad.
• 16GB internal flash storage.
• Wi-Fi.
• Bluetooth.
• M2 Memory Stick Micro port.
• No second analog joystick.
• No UMD drive.
G/O Media may get a commission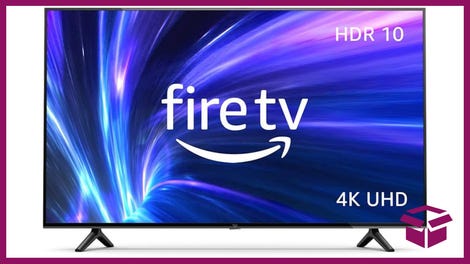 42% Off
Amazon Fire TV 50" 4K Smart TV
• Sense Me application will allow you to playback music based on moods.
• Available in black and white models.
Physical features
• 50% smaller than the original PSP.
• 40% lighter than the original PSP.
Game and media distribution
• All PSP titles going forward will be digitally distributed through the PlayStation Store, but also on UMD for the regular PSP.
• The video delivery service will offer more than 9400 TV shows—Showtime, Anime Network, Manga, UFC, HDNet, E!, G4, Magnolia...—and 1900 movies.
• On the PC there will be an application called Media Go, which will access the PS Store—I guess this will be the equivalent of the iTunes Store.
Availability and pricing
Click to view• The PSP Go! will be available for $249 and 249 euros
• Launch date: October 1st in Europe and North America. November 1st in Japan.
• PSP toolkits will be reduced 80% in price for developers.
PSP(R)go PSP(R) (PlayStation(R)Portable) Evolves to Match the Digital Lifestyle

With an Ultra-Portable Design and Digital Content Focus, PSPgo to Hit the Worldwide Market This Fall, Further Enhancing the User Experience Along with PSP-3000

LOS ANGELES, June 2 /PRNewswire/ — Sony Computer Entertainment Inc. (SCEI) today unveiled PSP® (PlayStation®Portable) go (PSP-N1000), a new evolution of PSP handheld entertainment system, specifically designed to suit the digital lifestyle of consumers who enjoy downloadable content on the go. PSPgo will become available in stores on October 1, 2009, in North America, Europe/ PAL territories and Asian countries and regions at a recommended retail price (RRP) of US$249 and euro 249, and on November 1, 2009, in Japan at a RRP of 26,800 yen (including tax). With both the existing PSP-3000 and new PSPgo, the company will further enhance the ultimate gaming and entertainment experiences on the go while providing consumers with the opportunity to choose the PSP system that's right for them.

PSPgo is ideal for today's on-the move consumers who prefer not to carry around disc-based content and are looking for on-demand entertainment. With the steady expansion of broadband network infrastructure, the number of users who download and enjoy digital entertainment content has been increasing remarkably. To address this growing trend, PSPgo replaces the UMD drive*1 with 16GB of flash memory to store a variety of digital entertainment content, offering users unlimited possibilities of portable digital entertainment delivered through PlayStation®Network. PSPgo, smaller and lighter than ever with a sophisticated design featuring an easy sliding display panel, is truly pocket-sized and can be taken everywhere. PSPgo will be available in Piano Black and Pearl White*2, two of the most popular colors since the launch of the PSP system in 2004. Along with PSP-3000, PSPgo will further enhance the unmatched portable gaming and entertainment experience by offering users more opportunity to enjoy their favorite entertainment content such as games, videos, music and photos anytime, anywhere.

In order to meet the needs of the growing number of PlayStation®Network users looking for digital entertainment content, SCE along with third party developers and publishers will continue to enhance the content line-up within PlayStation®Store for the launch of PSPgo, scheduled this fall. More and more new and attractive titles will become available for download from PlayStation®Store as well as on UMD. This broad content offering across all genres includes new games, free-demos, PS one® classics for PSP, add-on items for game titles, and trailers.

In addition to accessing PlayStation Store directly from PSP using the built-in wireless LAN (Wi-Fi) feature or through the PLAYSTATION®3 (PS3®) computer entertainment system, users will also be able to access and download a variety of entertainment content via their PCs using Media Go*3, a new software application. Media Go will enable users to access and download entertainment content on PlayStation Store via their PCs as well to easily manage PSP content on PCs, including games, videos, photos, and music. This easy to use software application will be available on a CD-ROM bundled with PSPgo.

Also this fall, a new music application specific to PSP that uses the "SensMe™ channels"*4 music recommendation feature, developed by Sony, also becomes available for download on PSP. With this music application, users will be able to enjoy their favorite music stored on their PSP through a rich user interface, designed exclusively for PSP. "SensMe channels" is a mood based music recommendation system that categorizes music content into channels such as "Relax," "Dance" and "Upbeat," and recommends music playlists for users.

Other features are:

> Easy Sliding Display Panel and Original Applications
PSPgo offers a variety of exciting entertainment options by taking
advantage of the sliding panel. When the panel is open, users will be
able to enjoy various entertainment content with the familiar button
control as PSP-3000, when closed, original applications for PSPgo, such
as a clock and calendar is displayed on the screen. Users can also
enjoy video and music when the panel is closed.

> Game sleep function
PSPgo has unique features such as game sleep function which enables
users to operate XMB(TM) (XrossMediaBar) while pausing gameplay
temporarily.

> Bluetooth(R) function
Bluetooth function will also allow users to connect Bluetooth
standard peripherals such as head-phones and head-set *5 as well
as PS3 wireless controller (DUALSHOCK(R)3 and SIXAXIS(R)) *6 to be
used when watching video content on TVs via PSP at home*7.

> Peripheral line-up
One of the products within PSPgo's peripheral line-up is a new
Cradle (PSP-N340) *7 that will become available in stores worldwide
concurrently with the release of PSPgo. This new Cradle enables users
to charge the PSPgo battery and also enjoy watching video and listening
to music. Also included in the peripheral line-up are video-out port
cables that enable users to enjoy games and videos on their TVs at home.