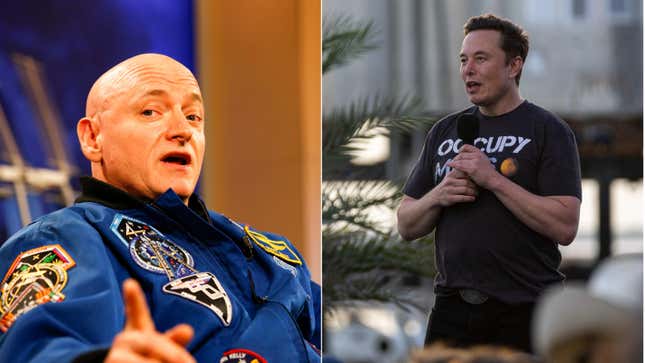 This past Saturday, ex-astronaut Scott Kelly tweeted at SpaceX CEO Elon Musk, criticizing his company for planning to prevent the Ukrainian military from using Starlink to control drone strikes. With typical Muskian bluster, the billionaire said he didn't want his devices to "enable escalation of the conflict that may lead to WWIII."
NPR Is Going Dark on Twitter | Future Tech
Musk then reiterated his point, tweeting: "SpaceX commercial terminals, like other commercial products, are meant for private use, not military, but we have not exercised our right to turn them off." He further called the situation "an extremely difficult moral question."
Since February 2022, SpaceX has been allowing Ukraine access to its interconnected Starlink satellite network for communications in its efforts to push Russian troops out of the country. Since the start of the war in Ukraine, the country has been using that system to do more than just communicate. The satellite network has been a major aspect of the country's drone program.
Kelly tweeted on Monday: "Precision strike in defense of sovereignty is not escalatory." He also claimed there have been "credible first person reports" of Starlink being restricted "even for military comm[unication]." Gizmodo reached out to Kelly for comment and clarification about these reports, but we did not immediately hear back.
Kelly, the NASA astronaut who spent a year in space for the famed twin study with him and brother Mark Kelly, has long shown support for Ukraine while condemning Russia for its prosecution of the war. He also isn't shy about getting into with Musk over the SpaceX CEO mocking members of the LGBTQ+ community.
Although SpaceX President Gwynne Shotwell told Reuters last week there were "things" the company could do "and have done" to limit Starlink's military capacity, it's unclear how, or even when, SpaceX plans to restrict Starlink's offensive capability. In a Tuesday report from The Guardian, Ukrainian soldiers said they have continued to use Starlink to control drones. The soldiers were unaware if it was even possible for Starlink to somehow distinguish between drones used for surveillance and drones used for attacks.
So where is the line between Starlink being used in an "offensive" capacity versus military and civilian communication? Well, Ukraine has been using Starlink in an offensive capacity since the very start of the war. The Times of London first reported in March last year that an elite unit of drone operators were using Starlink to help pick off Russian tanks and trucks at night. Ukrainian president Volodymyr Zelensky told Wired back in June that Starlink has helped to keep communications going in occupied territories even after all other means of communications were cut. The country's fleet of both small commercial and larger military drones have been extensively used for reconnaissance operations.
Because of his comments, Musk is being pulled back and forth by Ukrainian officials who once evangelized his support. Ukraine's vice prime minister Mykhailo Fedorov previously called Starlink "an essential part of critical infrastructure" after Russians targeted the country's energy resources. Last week, Ukrainian presidential advisor Mykhailo Podolyak tweeted that Musk and SpaceX needs to choose between supporting Russia or Ukraine.
What Does Starlink's TOS and Musk Have to Say on Drone Use?
Starlink's own terms of service notes that while the satellite system can be used "in times of crisis," it is "not designed or intended for use with or in offensive or defensive weaponry or other comparable end-uses." The TOS further reads that any modifications to use Starlink for "military use" may make the product run afoul of U.S. laws about exporting arms.
However, SpaceX seems to have modified its terms of service many months after Ukraine had already used the satellite connectivity in drone strikes. A quick peek through the Wayback Machine shows that the June version of the page did not include the military use clause. By late October—the next date the page was archived—the page contained the anti-weaponry language.
Gizmodo reached out to SpaceX for comment on the changed language and its plans for use of Starlink in Ukraine. We did not hear back and we likely won't since, like all of Musk's companies, SpaceX has no communications department.
A big question mark hangs as to why Musk and his private space company are so concerned about the offensive capacity of Starlink when SpaceX is already chomping at the bit for more military contracts. Just last month, SpaceX launched its Falcon Heavy rocket from Kennedy Space Center in Florida, containing a communications satellite for Space Force. Late last year, the company launched "Starshield," a kind of Starlink-alternative designed for secure government and military communications and surveillance.
Musk's line about "WW3" has come up again and again in recent months. According to the CEO's texts, as revealed in the lead up to the $44 billion Twitter buyout, Musk told Morgan Stanley's head of global technology Michael Grimes that "[it] won't make sense to buy Twitter if we're heading into World War III." In October, Musk caught flak from Ukrainian officials when he tweeted that the country should formalize Crimea as a part of Russia and allow another, possibly rigged, election in eastern "annexed" regions of the country. He said that "a possible, albeit unlikely, outcome from this conflict is nuclear war."