The U.S. military is hitching a ride aboard a SpaceX Falcon Heavy—the most powerful commercial rocket currently in operation. Here's how you can watch the classified USSF-67 mission take to Florida's twilight skies.

Update January 15, 6:11 p.m. ET: SpaceX's Falcon Heavy successfully blasted off from Kennedy Space Center in Florida on Sunday just after sunset. The two side boosters landed vertically as planned after separating from the rocket center core. SpaceX cut off its livestream just after the booster landings due to the classified nature of the payload.
Update January 14, 4:14 p.m. ET: Today's launch has been scrubbed and bumped up roughly 24 hours. The new target for launch is Sunday, January 15 at 5:56 p.m. ET. No reason was given for the delay.
Original article follows.
The time has come for SpaceX's Falcon Heavy to make its fifth flight, with launch of the USSF-67 mission expected on Saturday, January 14 at 5:51 p.m. ET from Launch Complex 39A at Kennedy Space Center in Florida. Sunset will have happened about five minutes prior, providing a spectacular twilight setting for rocket watchers, whether they're located along the southeastern U.S. coast or intently observing online.
G/O Media may get a commission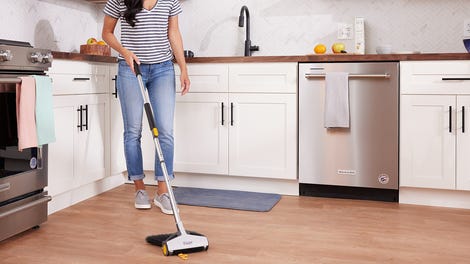 BOGO 50% Off
Flippr - BOGO 50% Off
SpaceX typically makes a live feed available a few minutes before launch, and we're anticipating the same for this mission. We will update this page and add the link once it becomes available. In the event SpaceX does not provide live video coverage, you can still watch the launch at any of the third-party live streams provided below.
Space Force's 45th Weather Squadron is predicting an 80% chance of favorable weather for the launch, citing high winds as a potential concern. Should the launch have to be scrubbed for any reason, SpaceX will try again on Sunday. The rocket's two side boosters will attempt vertical landings at Kennedy's Landing Zone 1 and 2, while the central core will not be recovered.
USSF-67 is SpaceX's second national security launch, the first being USSF-44, which blasted off on November 1, 2022 atop a Falcon Heavy. SpaceX provided a live feed for that launch but ended the broadcast early at the request of the Space Force. History will likely repeat itself for this launch, as the newest branch of the U.S. Armed Forces would prefer that we not catch a glimpse of its classified payload.
That payload, according to Kennedy Space Center, is Space Force's second Continuous Broadcast Augmenting SATCOM, a communications satellite otherwise known as CBAS 2. The Falcon Rocket will also attempt to deliver several unspecified satellites hitching a ride to geosynchronous orbit. The ESPA 3A payload adapter will assist in this task, carrying and delivering the rideshare payloads to their respective destinations some 22,250 miles (35,800 kilometers) above the surface.
Saturday's anticipated launch will mark the fifth flight of the 230-foot-tall (70-meter) Falcon Heavy, which produces over 5 million pounds of thrust at liftoff. SpaceX will put the rocket to good use in 2023, with four more launches expected in the coming year, including the launch of NASA's Psyche probe in October.
More: SpaceX Stacks Its Starship Rocket Ahead of Anticipated Orbital Launch