SpaceX is yet again teasing the possibility of a Starship orbital launch test, stacking the huge rocket on top of its launchpad at the company's Starbase site in Texas.

This week, the company posted a short video on Twitter showing Starship 24 being carefully placed on top of the Super Heavy Booster using Mechazilla, located on the rocket's launch tower at Starbase in Boca Chica.
The 22-second clip features an aerial view of Mechazilla's Tyrannosaur-like arms lifting Starship 24 to the top of the 469-foot-tall tower (142 meters), rotating to the right before placing it on top of the booster. Fully stacked, the rocket is around 390 feet tall (120 meters), making it the largest rocket ever assembled.
The pair have sat on top of one another before, including twice in October 2022. They then separated for individual testing. In mid-December, SpaceX completed a static fire test of Starship 24, firing up one of its six Raptor engines for seven seconds. Prior, the company performed a 14-engine static fire test of the booster in November. The booster is equipped with 33 engines, but SpaceX has yet to fire them up all up at the same time.
G/O Media may get a commission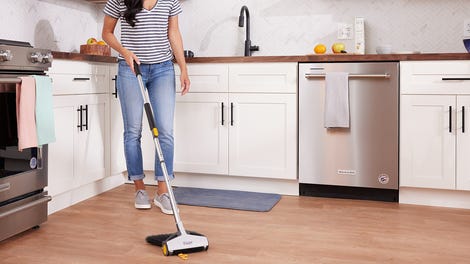 BOGO 50% Off
Flippr - BOGO 50% Off
Starship 24 is being prepped for the first orbital test flight of the prototype rocket, which has already suffered numerous delays. SpaceX CEO Elon Musk recently tweeted: "We have a real shot at late February. March launch attempt appears highly likely."
Musk has been pushing for Starship's orbital test flight, setting a series of unrealistic timelines in the past year. In June 2022, Musk declared that Starship would be ready for its first orbital flight in July shortly after getting the go-ahead from the Federal Aviation Administration for the site expansion in Boca Chica. However, the company still needs to fulfill an outstanding list of regulatory requirements before Starship 24 can fly, and it's not yet clear whether or not it has done so. SpaceX also suggested Starship will perform its orbital test flight in November and then later Musk said it would take place in December, but the orbital flight was not in the books for 2022.
Starship's orbital flight will see the heavy-lift rocket launch to space, where it will perform less than a full orbit around Earth and reenter Earth's atmosphere. The upper stage will splash down some 62 miles (100 km) off the northwest coast of Kauai, Hawaii, while the Super Heavy booster will come down in the Gulf of Mexico. The booster may also attempt an assisted vertical landing at the launch pad, but that hasn't been confirmed.
Starship is a fully reusable, super heavy-lift launch vehicle designed to go to Earth orbit, the Moon, and possibly even further destinations like Mars. SpaceX isn't alone in wanting to see Starship fly; NASA is also counting on Starship to land humans on the Moon by 2025 as part of its Artemis 3 mission.
It's understandable that SpaceX is ready to see Starship fly on its first orbital trip. In the meantime, the company is keeping busy. "SpaceX had four rockets on four pads and two Dragons on orbit today—as CRS-26 Dragon departed the [International Space Station] with Crew-5 Dragon still attached to the orbiting lab, Falcon Heavy rolled out of the hangar, two Falcon 9's readied for launch, and Ship 24 was stacked onto Booster 7," SpaceX wrote on Twitter.
The company enjoyed a lot of success in 2022 and is seemingly setting up for another jam-packed year.
More: SpaceX Finally Meets a Launch Goal as 60th Orbital Mission of 2022 Takes Flight