By the end of this year you could be playing with a quad-core Android phone courtesy of Fujitsu. We just saw the company's newest prototype. It's fast, but what would you do with all of that power?
The prototype has a 1.2 GHz NVIDIA quad-core Tegra-3 processor a 1280 X 720 4.6" TFT-LCD. The prototype we played was juiced with 4 GB of RAM, but Fujitsu says that any production model would likely have on 1 GB. In short this thing has more impressive specs than most of the tablets out there. The phone could see a release in Japan as early as this summer in which case it would run Android Ice Cream Sandwich. The phone—like all Fujitsu phones—is waterproof, owing to a rubber seal, which Fuji showed us on one of its other phones. Oh, and Fujitsu plans to release the phone with a 13.1-megapixel camera.
Fujitsu wouldn't actually let us hold the phone on our hands, but we did get to play games on the big screen with it. The phone was connected via a mini-USB to HDMI and we played the game using a Logitech controller. The performance was excellent. Graphics were smooth and accurate. Gameplay didn't lag at all. It felt playing a game on a console.
Still this kind of performance with these specs is almost overkill for a phone. What would you use it for. Fujitsu clearly envisions the phone hooked up to a TV for gaming or other processor-taxing functions—functions that don't even exist yet. The main question is what apps if any require this much power? Most apps run relatively well on the existing single and dual-core phones on the market. Then again, developers move very quickly. If you get excited about four cores, well, developers will too. Fujitsu's apparent position on the matter: If you build it, they will come. And hopefully, it will come to the US soon.
G/O Media may get a commission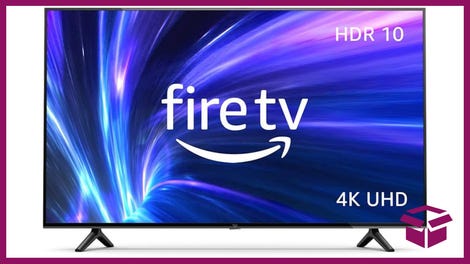 42% Off
Amazon Fire TV 50" 4K Smart TV