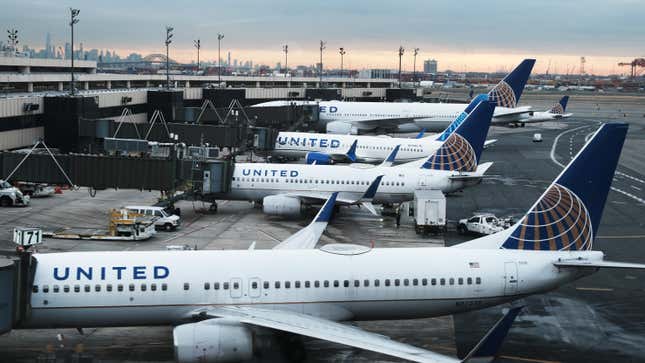 The Federal Aviation Administration has fitted dozens of airports nationwide with new software to prevent, what it calls, "wrong-surface landings," where inbound planes crash into aircrafts waiting on taxiways.

As detailed by Axios, the software is called ASDE-X Taxiway Arrival Prediction (ATAP), and uses radar and sensors to detect planes that are lining up on airport taxiways—not runways—and preparing for takeoff. The software will then notify air traffic controllers, who can then notify the pilots of inbound aircrafts, thereby preventing wrong surface events. The FAA told Axios that there were 1,641 of these events from October 2016 to the end of 2022, though 83% of those events did not involve commercial aircrafts.
"ATAP provides an extra layer of safety for pilots and passengers at airports with multiple parallel runways and taxiways," said Captain Jeffrey Sedin, airport ground environment chairman with the Air Line Pilots Association, in an FAA blog post.
The FAA said in its post that the ATAP software has prevented 50 wrong-surface landings since it was first introduced in 2018 at Seattle-Tacoma International Airport. In 2023, there have already been eight alerts. Some airports have a similar software called Airport Surface Surveillance Capability (ASSC), but major airports that have ATAP include Boston Logan International Airport, Charlotte Douglas International Airport, Newark International Airport, and Los Angeles International Airport.
"All saves are equal," said Giovanni Dipierro, former manager of the FAA's Runway Safety Group, in the FAA's blog post. "Aircraft as small as a Cessna Caravan 208 up to a Boeing 757 have been sent around due to an ATAP alert."
While planes traditionally land on runways designated by aircraft controllers, some have landed on taxiways instead, posing a risk to flights on those stretches of tarmac. Infamously in 2006, a pilot mistakenly landed on a taxiway at Newark International Airport, when the flight crew mistook the taxiway as a parallel runway. The incident was subsequently investigated by the National Transportation Safety Board.