Facebook's vice president of advertising, Rob Goldman, just learned an important lesson about tweeting—namely, that he should never do it.
The Department of Justice on Friday indicted 13 people for their alleged involvement in Russia's Internet Research Agency, which used Facebook to spread propaganda in an effort to influence the 2016 US election, among other efforts. In a foolhardy move, Goldman responded to the indictment by tweeting his own thoughts regarding Russian interference on the platform—a move for which he is now very sorry.
Goldman's claim that "swaying the election was *NOT* the main goal" of Russia's propaganda ads was subsequently shared by President Trump, in an apparent attempt to discredit Mueller's sweeping investigation, which also includes a probe into whether the Trump campaign colluded with Russian operatives and whether the president obstructed justice by firing former FBI Director James Comey last May.
G/O Media may get a commission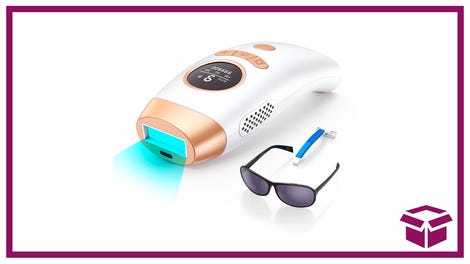 58% Off + Coupon
IPL Hair Removal Device
"The Fake News Media never fails," Trump tweeted on Saturday along with Goldman's tweet. "Hard to ignore this fact from the Vice President of Facebook Ads, Rob Goldman!"
This was not a great look for a company hellbent on remaining nonpartisan and moving beyond its newfound reputation as a platform for Russian propagandists. Joel Kaplan, Facebook's vice president of global policy, responded to Goldman's assessment, saying in a statement to the New York Times that "nothing we found contradicts their conclusions," referring to Mueller's indictments. "Any suggestion otherwise is wrong."
Goldman has now walked back his statements, indicating that his tweets were sent without consultation or approval from Facebook, and that perhaps his view wasn't as well grounded as Mueller's investigation. The Facebook executive posted his apology in an internal Facebook message, Wired reported.
"I wanted to apologize for having tweeted my own view about Russian interference without having it reviewed by anyone internally. The tweets were my own personal view and not Facebook's. I conveyed my view poorly. The Special Counsel has far more information about what happened [than] I do—so seeming to contradict his statements was a serious mistake on my part.

"To those of you who have reached out this weekend to offer your support, thank you. It means more than you know. And to all of you who have worked so hard over the last six months to demonstrate that we understand our responsibility to prevent abuse on Facebook—and are working hard to do better in the future—my deepest apologies."
Goldman's initial series of tweets wasn't just a PR nightmare, it signaled a glaring misunderstanding of the role ads played in Russian election interference. As Wired pointed out, ads were just a drop in the bucket for Russia's troll campaign. While Russian ads reportedly got about 11 million views, their accounts raked in 150 million views. Russians spent $100,000 on Facebook ads during the 2016 election, which the social network has argued is small fish compared to other political campaigns on the platform. But the DOJ indictment indicates that the Internet Research Agency was spending $1.25 million monthly on its campaign, which included efforts outside of Facebook.
To write off Russian election interference by boiling down its efforts to purely Facebook ads is ill-conceived. In the wake of Silicon Valley's years-long reckoning, tech execs would be wise to let the experts have the last word.