Facebook and Donald Trump, two large, terrible sons of our broken society that truly deserve each other, slow-motion collided on Saturday when the president decided to lift wholesale a new line of defense over the ongoing Russian election scandal from the social media giant's vice president of advertising Rob Goldman.

On Friday, the Department of Justice indicted 13 Russian nationals on a number of charges for alleged involvement with an 80-person-plus troll farm called the Internet Research Agency, which tried to flood US social media with disinformation and propaganda in what intelligence officials said looked a lot like an effort to help Trump's campaign. Trump has been the subject of rampant speculation that he and/or elements of his campaign colluded with said Russians, who primarily ran the propaganda through Facebook and its subsidiary Instagram.
So the president spent much of Saturday quote-tweeting Goldman, an ad executive whose line of defense—that the Russians were more interested in seeding chaos than electing Trump, a statement seemingly designed to minimize Facebook's responsibility for our current national situation—synergizes nicely with Trump's now-familiar habit of latching on to anything with the faintest possibility of exonerating him.
G/O Media may get a commission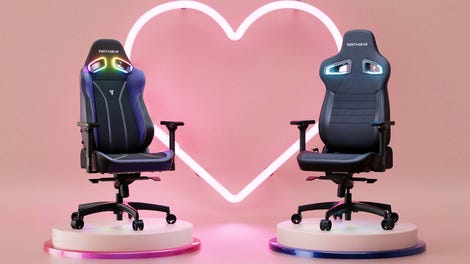 Up to $150 off
Vertagear Gaming Chairs
Trump has latched on to other random defenses before including the claim that since the IRA operation began before he formally announced his candidacy, the two things couldn't possibly be related, an incredibly obvious lie. As the Atlantic noted, special counsel Robert Mueller's indictment went into great detail about how the IRA seemed to realize this Trump guy had potential during the election season and then continued to "create maximal discord in the new era" after the votes were in.
Goldman is also not an expert on Russia or intelligence, the company has long done performative flip-flopping on the Russia issue to avoid legislation that could affect its bottom line, and as media types immediately noted on Twitter, buying Facebook ads is only one of many things the indictment accuses the IRA of doing. He didn't note the possibility the later ads were intended to seize on the upset created in the wake of the president's election, or that tricks like fueling both sides of street protests tacitly benefited Trump by turning the dial on our broken democracy meter to 11.
What went unsaid in [Goldman's] tweets is that there were thousands of posts shared on Facebook and other social networking sites, like Twitter, that were not ads, but still reached millions of potential voters. Facebook said that ads purchased by Russian sources reached 10 million users, but all posts from Russian accounts—including non-ads that were posted for free—reached as many as 126 million users.
As Goldman later conceded, it is beyond obvious the Russians in question tried to boost Trump:
Now, whether or not the IRA actually had any quantifiable impact on the election—as well as many of the more salacious question surrounding their involvement, like if the pee tape is real—remain other issues that in some cases may never be answered satisfactorily. Yet it's still weird that the president chose one of those Russians' alleged marks to defend himself, because people don't really trust Facebook either, especially not when it comes to foreign meddling, and a lot of people are already more than a little suspicious about its how forthright it's actually being about this whole mess.