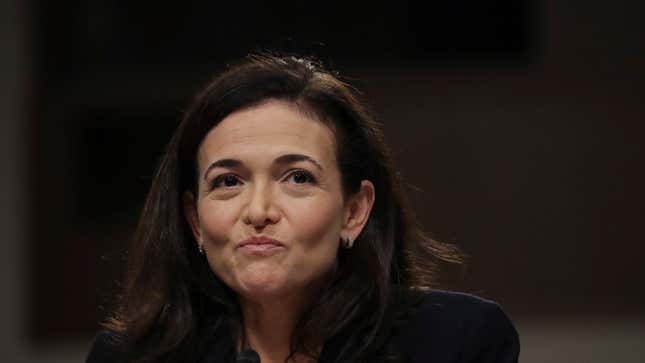 Meta's longtime business chief, Sheryl Sandberg, is leaving the company.
"It is time for me to write the next chapter of my life. I am not entirely sure what the future will bring – I have learned no one ever is. But I know it will include focusing more on my foundation and philanthropic work," she said.
Meta's Apparent Firing Goof
Sandberg, whose foundation is geared toward promoting women's corporate involvement, announced her departure after 14 years in a Facebook post Wednesday afternoon.
Sandberg is the most recognizable figure at Facebook next to its founder, Mark Zuckerberg. In 2008, the CEO was only 23-years-old when he poached Sandberg from search giant Google, where, at 38, she managed a team handling nearly all of its global advertising. Her mission at Facebook was roughly the same—to scale up a company that had yet to break $200 million a year, and ensure Facebook's eponymous platform took root across multinational markets.
Her success is undeniable. Facebook's business quadrupled in less than two years. In its last fiscal year, revenue reached $117 billion. Today, the company claims 2.9 billion monthly users; a 2400% increase since Sandberg became Zuckerberg's number two. There are now more Facebook users in India than there are people living in the United States.
Worth an estimated $1.7 billion herself, Sandberg told Bloomberg it's unlikely she'll take another job in the sector. "I want to make more room to do more philanthropically, to do more with my foundation," she said. But another shot at tech, or even politics, is not entirely off the table, she said: "I learned a long time ago: Never make any predictions about the future."
In a post, Zuckerberg called it an "end of an era."
"I'm going to miss running this company with Sheryl. But I'm glad that she'll continue to serve on our board of directors so we can benefit from her wisdom and experience even after she transitions out of her day-to-day management role in the coming months," he added. Sandberg was the first woman to sit on Facebook's board. A Meta spokesperson did not respond to a request for comment.
Javier Olivan, Meta's vice president of central products, will step in to fill Sandberg's role, Zuckerberg said.
Controversy also pockmarked much of Sandberg's tenure. Once a rising business icon, she pushed forward with Zuckerberg's mission to "connect the world" with little regard for cultural or political impacts on the countries Facebook assimilated. Unprecedented growth came often at the expense of internet users' personal privacy. On occasion, undermining privacy was explicitly the goal. In 2018, the company paid a record-breaking $5 billion fine in the U.S. following years of scandal. Sandberg has herself been party to a number of public relations snafus. She engaged a Republican opposition research firm to dig up dirt on billionaire Facebook critic George Soros. She used Facebook's vast resources to kill stories in The Daily Mail about her then-boyfriend, Activision Blizzard CEO Bobby Kotick. She publicly dismissed Facebook's role in the organization of the Jan. 6 Capitol riot, only for reports to later emerge the social network played a central role in the attempted insurrection.
A decade after announcing her plans to transform Facebook into "a global leader," military officials in Myanmar used Facebook to instigate the ethnic cleaning of the Rohingya people, leading to the one of the largest forced migrations in modern history. "Facebook has been a useful instrument for those seeking to spread hate, in a context where, for most users, Facebook is the Internet," UN investigators wrote in 2018, calling the company's response to the genocide "slow and ineffective."
"The debate around social media has changed beyond recognition since those early days," Sandberg wrote Wednesday. "To say it hasn't always been easy is an understatement. But it should be hard. The products we make have a huge impact, so we have the responsibility to build them in a way that protects privacy and keeps people safe."
Sandberg launched the Lean In Foundation after publishing "Lean In: Women, Work, and the Will to Lead," which has sold a million copies but received a mixed critical response. It was later renamed the Sheryl Sandberg & Dave Goldberg Family Foundation after her husband passed in 2015.
On word of Sandberg's departure, the women's advocacy group UltraViolet urged Meta to do more to make Facebook and its other apps—Instagram, and Whatsapp—a safer environment for women and girls online. The sites, under Sandberg's watch, cofounder Shaunna Thomas said, have become a veritable playground for misogynists, racists, and those seeking to spread false information.
"Sheryl Sandberg may fancy herself a feminist, but her decisions at Meta made social media platforms less safe for women, people of color, and even threatened the American electoral system," said Thomas. "Sandberg had the power to take action for fourteen years, yet consistently chose not to."