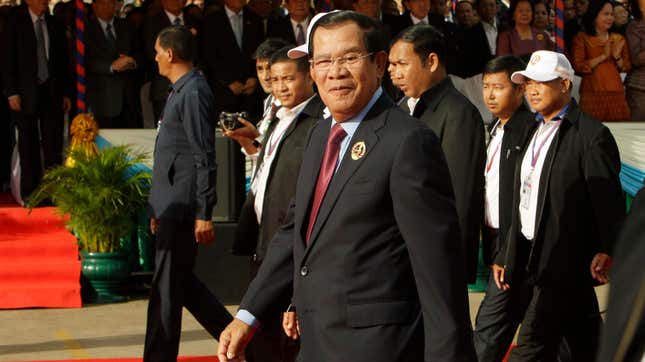 Meta has rejected its own Oversight Board's recommendation to immediately suspend the Facebook and Instagram accounts of Cambodia's former Prime Minister Hun Sen, an authoritarian dictator who refers to political dissidents as dogs and has been accused of using Meta's platforms to incite violence. The decision marks a stark divergence from the Oversight Board, which was created in 2018 as a Meta-funded, independent check on the company's most sensitive politically fraught content moderation decision. Recommendations aside, the Cambodia case proves that the buck for political content on Facebook and Instagram ultimately still stops with Meta and CEO Mark Zuckerberg.

Meta's Apparent Firing Goof
The Oversight Board called on Meta in June to immediately suspend Hun Sen's accounts and conduct a review given the leader's long, disturbing history of human rights abuses and his "strategic use" of social media to amplify threats against political opponents. Meta agreed to a binding decision from the Oversight Board to remove a video where Hun Sen called on political opponents to choose between "the legal system" and "a bat," but stopped short of accepting the non-binding recommendation to suspend his accounts outright. In a blog post Tuesday, Meta broke its silence on the issue, saying a suspension of the leader's accounts "would not be consistent" with its policies.

"Based on an assessment of the framework criteria contained in the [Crisis Policy Protocol]— including levels of ongoing civil unrest/violence, state-imposed restrictions on media, and any significant reductions of human rights as compared to the baseline conditions in the country—we determined that the situation in Cambodia did not meet the entry criteria threshold for crisis designation under the Crisis Policy Protocol," Meta said.
The "Crisis Policy Protocol" Meta mentioned refers to a framework the company put in place to assess the risk of imminent harm it perceives in an area both on, and off its platform. The protocol was part of an equation Meta used in deciding to reinstate former US President Donald Trump's accounts following a two-year ban. In that case, Meta decided the imminent risk for harm had subsided enough to justify letting Trump back on. The opposite appears to apply here. Cambodia's threat temperature, Meta estimates, isn't hot enough to justify removing a prominent political figure with a history of abusing the platform. Hun Sen resigned earlier this month, officially handing over power to his son after ruling for nearly four decades.
"Hun Sen's accounts will continue to be subject to our generally applicable penalty system," Meta added. "Our Community Standards apply to all users all around the world. When a user violates these standards, they may also incur a strike to their account."
The Oversight Board told Gizmodo it stands by its decision despite Meta's rejection.
"Elections are a crucial part of democracy and social media companies must ensure their platforms are not misused in ways which threaten to undermine them," an Oversight Board spokesperson told Gizmodo. "The Board stands by its original decision and urges Meta to do everything in its power to deter public figures who exploit its platforms to incite violence."
Hun Sen's battle with Facebook
Meta's choice to stand by Hun Sen comes despite repeated reports from rights organizations documenting examples of the leader using social media platforms to harass political opponents and pressure online platforms to restrict freedom of expression. In the 38 years that Hun Sen had ruled in Cambodia, human rights organizations have accused him of engaging in brutal violence, massive corruption, and manipulated elections. This year, Hun Sen reportedly ordered the shutdown of Voice of Democracy, one of the country's last independent news sites, because its writers didn't apologize profusely enough after referencing his son in a way the leader disagreed with.
Hun Sen attracted the Oversight Board's attention recently for a 41-minute video post from his Facebook account in January where he threatened to take legal action against political opponents who accuse his party of stealing votes in the upcoming election.
"Either you face legal action in court, or I rally [the Cambodian] People's Party people for a demonstration and beat you up," Hun Sen said during the speech.
That video was viewed around 600,000 times. Meta initially kept the video up, citing its newsworthiness exception, despite multiple accounts flagging it as violating the company rules. The Oversight Board, which acts as a semi-autonomous Supreme Court-like entity governing Meta's content moderation policies, stepped in and issued a binding ruling overturning its decision to leave up the video.
That decision had dramatic consequences. Almost immediately, Hun Sen's government lashed out and officially declared 22 members of the Oversight Board "persona non grata," a label barring them from entering the country. The Board's ruling, the Cambodian government alleges, was "political in nature" and intended to obstruct the freedom of the press. The Board responded by asserting that the recommendation is meant to protect the press and dissidents from a barrage of online attacks directed by government leadership.
In separate Telegram posts seen by Rest of World following the Board's recommendations, Hun Sen' threatened to sue the company and even shut Facebook down entirely before eventually backing off.
"I am not so stupid to shut down Facebook," Hun Sen reportedly said on July 1. Indeed, blocking Facebook entirely would be stupid. An estimated 11 million of Cambodia's 17 million total population uses Facebook. For many in Cambodia, Facebook is the internet. For now, Facebook remains in Cambodia, and Hun Sen remains on Facebook.