Facebook was back in federal court today to plead with a judge to reject ZeniMax's request to halt sales of the Oculus Rift headset. The argument by Facebook's lawyers could work, but it sure doesn't make the company's defense against the original suit look any stronger.
In February, a jury ordered Facebook to pay ZeniMax $300 million in damages over violations related to a non-disclosure agreement and trademark claims. Facebook is fighting the verdict and ZeniMax upped the ante by filing for an injunction on the sale of unspecified models of the Rift. On Tuesday, U.S. District Judge Ed Kinkeade listened to Facebook's counsel explain that banning all sales of the Oculus Rift headset would place an unfair hardship on the company that currently has a market cap of $441.25 billion.
According to court filings seen by Bloomberg, Facebook insists that a sales block "would serve no one but ZeniMax, who would use it only as leverage to try to extract money from Oculus." It adds that "the injunction would create a windfall for ZeniMax while detracting from the public's enjoyment of Oculus's groundbreaking products."
It seems like ZeniMax wouldn't really dispute those claims, at least not in private. The company considers itself the victim in this situation. In the original lawsuit, ZeniMax claimed that trade secrets were stolen by its former employee John Carmack. Carmack left to become the chief technology officer of Oculus in 2013. An expert witness testified that in January that in his review of Oculus code, he found many instances of ZeniMax's trade secrets were being used. The jury ultimately decided that the most egregious wrongdoing was a violation of a non-disclosure agreement that Oculus founder Palmer Lucky signed in 2012. The jury decided that Facebook hadn't "stolen" trade secrets but it did improperly use them. For that, it was ordered to pay $50 million.
G/O Media may get a commission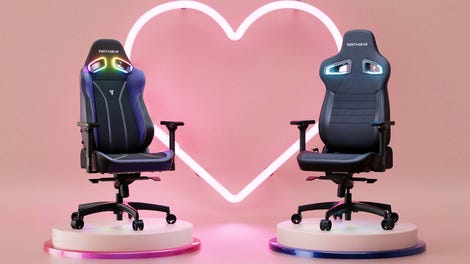 Up to $150 off
Vertagear Gaming Chairs
For ZeniMax, the Oculus Rift headset is improperly using its trade secrets, therefore it shouldn't be sold until it stops doing so. This is where Facebook's argument becomes pretty weak. The VR unit claims in the filings that it "would have to hire clean-room engineers to make myriad changes not just to the code fragments ZeniMax presented at trial, but to numerous other segments of interrelated and interdependent code." Some might rephrase that as: "Our headset doesn't work without their code."
But according to Bloomberg, it's not easy to get products pulled:
If the judge decides ZeniMax can be made whole with money, then he's unlikely to disrupt Facebook's business. U.S. District Judge Ed Kinkeade will consider Facebook's chances of winning on appeal, the existing or potential harm to each company and what's in the public's interest.
Kinkeade declined to make a decision today. He suggested that the two parties try again to reach a settlement.
VR is a big bet for Facebook, and the company sees it as part of a long-term strategy that will integrate with its core social media network. The VR market is moving slowly and Oculus was projected to be in third place by a report in late 2016. If Facebook has to go back to the drawing board, it would lose even more of the VR marketshare and the consequences could be enormous. It's probably a safe bet that Facebook executives will be feeling pretty generous at the negotiating table.