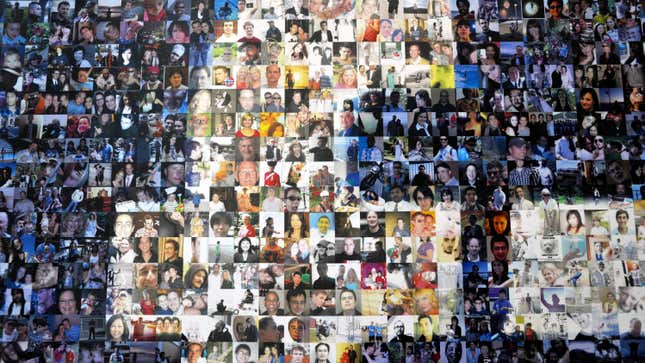 Meta, the company previously known as Facebook, may not have the best track record when it comes to preserving its users' privacy, but it nonetheless wants to make damn sure other companies aren't spying on its community without its approval.
Russian Court Says Meta Is "Extremist Organization"
This week, the tech giant filed a lawsuit against United Kingdom-registered scrapping and surveillance firm Voyager Labs, alleging the company created fake, unauthorized accounts and used them to collect data from Facebook and Instagram, as well as ​​Twitter, YouTube, LinkedIn, and Telegram. The lawsuit comes just days after the U.S. The Supreme Court allowed Meta's separate lawsuit against Israeli surveillance-for-hire giant NSO Group to proceed.
In its newest complaint, Meta claims Voyager created more than 38,000 fake accounts and used those to scrape 600,000 Facebook users' "viewable profile information." That profile data potentially implicates posts, likes, friends lists, photos, and comments and certain data pulled from Facebook Groups and Pages. Voyager allegedly marketed its scraping tools to companies interested in conducting surveillance on social media sites without being detected and then sold its bounty to the highest bidder.
Voyager did not immediately respond to Gizmodo's request for comment.
Voyager bills itself as an investigative tool intended for law enforcement. A 2021 report from The Guardian revealed the Los Angeles Police Department used a free trial of Voyager's software back in 2019. In its pitch to the LAPD, Voyager reportedly said its social media surveillance tool could grant police the ability to monitor the accounts of thousands of a potential suspect's online friends. Armed with the software, the the LAPD was reportedly told it could then "predict" crime before it ever happened, according to The Guardian report. Those methods, which fall under the umbrella of so-called "predictive policing," have drawn scrutiny from privacy advocates and lawmakers in recent years over concerns that the tech perpetuates bias and discriminatory practices in policing.
Voyager's targets, the Meta complaint alleges, were broad, and included employees at non-profits, media companies, universities, and the U.S. armed forces amongst others. In a blog post, Meta said it filed the complaint to enforce its own rules, which Voyager violated, and asked the court to block the company from Facebook and Instagram
"Companies like Voyager are part of an industry that provides scraping services to anyone regardless of the users they target and for what purpose, including as a way to profile people for criminal behavior," Meta said in a statement. "This industry covertly collects information that people share with their community, family and friends, without oversight or accountability, and in a way that may implicate people's civil rights."
This isn't the first time Meta's taken a surveillance company to court for operating on its platforms. Meta is currently engaged in a years long legal dispute with Israel-based NSO Group, which the company claims exploited a vulnerability in WhatsApp to infect over 1,400 phones with its powerful "Pegasus" malware. NSO, which some critics have derided as "amoral 21st-century mercenaries," have reportedly sold software to intelligence agencies who've then gone on to target journalists, human rights advocates, children, and even some political leaders.
Meta won a major victory in that lawsuit this week, with the Supreme Court rejecting NSO's attempt to dismiss the case. Meta claims NSO violated numerous laws, including the federal Computer Fraud and Abuse Act, when it accessed WhatApp users' devices. Apple launched its own lawsuit against NSO in 2021.