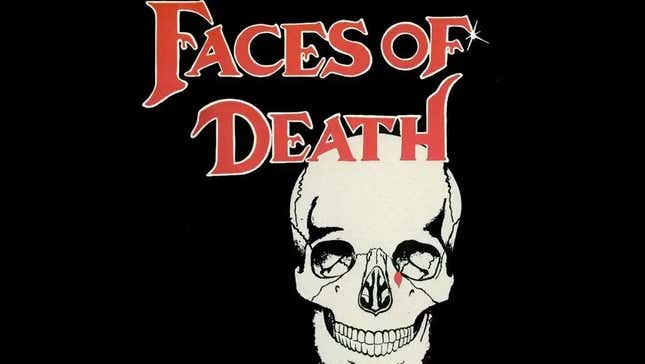 What's left to remake these days in the shock-horror realm, now that Texas Chainsaw Massacre has been put through it multiple times? Until Hollywood remembers that European sleaze merchants made a lot of cannibal pictures in the 1970s, one of the most notorious mondo movies is making a comeback: Faces of Death, a project first announced a few years back.

Released in 1978 by director John Alan Schwartz, Faces of Death—styled as a "documentary"—became notorious for its purported inclusion of actual death scenes. Sure, some stuff was fake, but some of it wasn't, including animal slaughter and historic footage of the Holocaust; the film also visits a morgue, shows images of suicides, and goes into the gory details of a real-life plane crash. In other words, Faces of Death was very much a product of its time—it's still an undeniable curiosity and for years after, its existence terrified any kid with access to an edgy video store who happened to come across the VHS tape while looking to expand their horror knowledge. (Me, for instance.) An array of sequels in the same "is it real? Is it fake?" vein followed, but none quite achieved the forbidden allure that clung to the original.
Which brings us to the actual news at hand: according to the Wrap, Legendary has cast Barbie Ferreira (Euphoria) and Dacre Montgomery (Stranger Things) in its "reimagining" of Faces of Death, to be written by Isa Mazzei and directed by Daniel Goldhaber. It's described as "[bringing] the shocking fear of the original Faces of Death videos into the digital age," and quotes a statement from the filmmaking duo: "Faces of Death was one of the first viral video tapes, and we are so lucky to be able to use it as a jumping off point for this exploration of cycles of violence and the way they perpetuate themselves online."
A remake in name only, in other words, but what a name to cash in on! That cast has potential, but calling the movie Faces of Death still feels like it'll dilute the potent power the original still packs, even if mondo movies have long since been replaced by internet nightmares. We'll be keeping an eye on this one for sure—and in the meantime, nobody better be penning a script in 2023 using Cannibal Holocaust as a jumping off point.
---
Want more io9 news? Check out when to expect the latest Marvel, Star Wars, and Star Trek releases, what's next for the DC Universe on film and TV, and everything you need to know about the future of Doctor Who.