This might be the strongest fall movie season we've ever seen. Almost every week has a movie coming out that we're either excited about or curious about. After a pretty entertaining summer, the movies are giving us a mix of crazy action movies and thought-provoking weirdness for the fall.
Here's our list of 26 movies coming this fall — including five we're absolutely sure will be great.
Before you ask, there are no release dates for John Dies at the End, Antiviral, or Neil Jordan's vampire movie Byzantium. We'll keep you posted.
The Possession (August 31)
Formerly titled Dybbuk Box, this is the rare Jewish horror movie, about a family who buy a weird box at a yard sale. Starring Jeffrey Dean Morgan! And Sam Raimi is a producer.
Prognosis: We really loved the trailer, and the first clip reminded us of Raimi's creepiest work. So, severed fingers crossed.
G/O Media may get a commission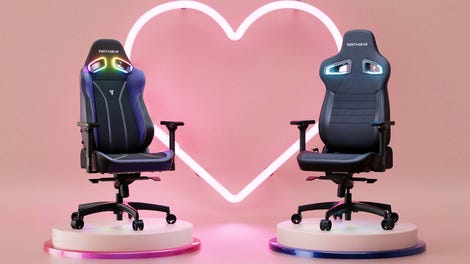 Up to $150 off
Vertagear Gaming Chairs
September
Branded (September 7)
This is the weird thriller about a dystopian future where advertisements control your brain, and ancient monsters are secretly behind it. One man who has the power to control everybody through marketing decides to fight back.
Prognosis: It sounds very much like They Live, but the shots in the trailer of tentacles coming out of people's backs are kind of cool. And Max von Sydow and Jeffrey Tambor are both evil corporate suits, and it looks like they have scenes together. Could be fun.
[Rec] 3: Genesis (September 7)
The third installment of the Spanish horror series is sort of a prequel as well as a sequel, taking place during the other two movies. And it apparently explains the origins of the demonically possessed people in the first two movies. Oh, and the whole thing takes place at a wedding reception.
Prognosis: Apparently, it's not that great. It's sillier and less thrilling than the first two.
Toys in the Attic (September 7)
This Czech stop-motion animation version of Toy Story features a group of toys that come to life. They have to rescue a doll named Buttercup from an evil human-faced bug creature. The English-language version has the voices of Cary Elwes, Joan Cusack and Forest Whitaker. Watch the trailer here.
Prognosis: It's Cary Elwes in a movie about a girl named Buttercup. Could be cute.
Resident Evil: Retribution (September 14)
It's the umpteenth Resident Evil movie, and this time the zombies are intelligent enough to ride motorcycles and shoot guns. Plus we're meeting zombies from all over the world, including a lot of Japanese zombies. Oh, and Michelle Rodriguez is back as a pair of clones of her original character: one good, one bad.
Prognosis: I wasn't that excited until I read the thing about a good Michelle Rodriguez and an evil Michelle Rodriguez, in the same movie. Good Michelle Rodriguez drives a Prius, bad Michelle Rodriguez is a gun nut. (They still have Priuses after the zombie apocalypse?)
The Master (September 14)
Both Paul Andersons have movies out the same week — but the Paul Thomas Anderson movie is about a weird science fiction-y cult leader after World War II. Everybody keeps debating whether it's about Scientology, but it almost doesn't matter — it's about that era where new religious fads were springing up based on science fictional notions, from Orgones to Thetans. And the trailers look mesmerizing.
Prognosis: It should rule.
Dredd (September 21)
The post-apocalyptic lawman of Mega City One jumps out of the comics and into the movies, with Karl Urban playing Dredd without ever taking his helmet off. We saw this film at San Diego Comic Con, and we were blown away by its artistic approach to 3D violence. Plus its surprising intelligence.
Prognosis: It does rule.
Looper (September 28)
Brick director Rian Johnson reteams with Joseph Gordon-Levitt for a thriller about criminals who use time travel to dispose of people they want to murder without leaving any troublesome bodies around. Bruce Willis plays Gordon-Levitt's older self, whom Gordon-Levitt is supposed to execute. Everything we've seen and heard about this movie has made us more excited to see it.
Prognosis: It should rule.
Hotel Transylvania (September 28)
Adam Sandler plays Dracula, in this zany animated comedy about a resort for monsters, where a human backpacker randomly shows up and starts romancing Dracula's daughter. This is the big-screen debut of Genndy Tartakovsky (Dexter's Laboratory, Star Wars: The Clone Wars, Samurai Jack).
Prognosis: We want to see new stuff from Tartakovsky, but it's hard to get past "Adam Sandler plays Dracula."
---
October
Frankenweenie (October 5)
Tim Burton makes a full-length version of the short film that helped get him fired from Disney in 1984, about a boy who reanimates his dead dog — causing all heck to break loose. It's in black and white, and feels very much like an Ed Wood-esque homage to classic horror and science fiction movies of the 1950s.
Prognosis: We saw a ton of footage at Comic Con, and it felt both charming and appealingly campy. This could be a return to fun for Burton.
V/H/S/ (October 5)
In this "found footage" horror anthology, a group of thugs break into a house looking for one very special video tape — and they wind up watcing a bunch of creepy, disturbing videos along the way. Including the story of a girl who turns out to be a vampire-like creature, and a serial killer who can teleport. Our sister site Gawker has already given it a rave review.
Prognosis: It does rule.
Sinister (October 5)
Director Scott Derrickson tries to redeem himself after The Day the Earth Stood Still, with this low-budget horror film. Ethan Hawke is a true crime writer who moves into the house where a family was killed, and starts watching the videotapes of what happened to the family — but he starts to realize that there's a supernatural entity involved, the demonic "Eater of Children." And his own family could be at risk.
Prognosis: It looks like it could be formulaic, but still somewhat creepy and effective.
Argo (October 12)
Not strictly a science fiction film, but still very worth mentioning — Ben Affleck directs and stars in this movie about the real-life CIA operation to rescue some Americans trapped in Iran, under the pretext of making a low-budget Canadian science fiction movie on location there.
Prognosis: It looks almost unspeakably fun. High hopes for this one.
Atlas Shrugged, Part 2 (October 12)
Just in time for the fall election, it's another dose of Ayn Rand, the second movie in a planned trilogy. All of the roles have been recast this time around, and there's a new director: John Putch, who directed many episodes of Scrubs and Cougar Town.
Prognosis: It can't really be as bad as the first movie... can it?
Paranormal Activity 4 (October 19)
Paranormal Activity 3 was way better than the second movie, and this series is still a license to print money. So we're going back to the well one more time. This time, we're following the sister of the original girl, plus her stolen demon baby. No, I don't know what that means, either. We follow the neighbors who are perplexed by the crazy shit that's going down since the demon baby moved in next door.
Prognosis: This film was directed by the same duo as PA3, so it might actually be another genuinely scary installment.
Cloud Atlas (October 26)
David Mitchell's sprawling, genre-defying novel becomes an ambitious, crazy movie from the Wachowskis and Run Lola Run's Tom Tykwer. With a cast including Tom Hanks, Halle Berry, Susan Sarandon and Jim Broadbent all playing a variety of weird roles with crazy prosthetics and makeup, this film looks like one of the most ambitious projects in ages.
Prognosis: It's either going to be a masterpiece or a trainwreck. Pretty much no middle ground with this one.
Silent Hill: Revelation (October 26)
The long-awaited sequel to what might be the only good video game movie ever made, the new Silent Hill reunites Game of Thrones stars Kit Harington and Sean Bean. There are creepy nurses and insane scares, and by all accounts the new movie is trying to recapture what made the original film (and games) so great.
Prognosis: The footage we saw at Comic Con was pretty amazing, and this sounds like it might be a worthy sequel. Fingers crossed.
Vamps (October 26)
Clueless director Amy Heckerling reunites with Alicia Silverstone for a movie about two beautiful vampires in the city, trying to keep up with the modern world and deal with changing fashions, gadgets and dance crazes. Until they fall in love, and everything changes. Sigourney Weaver plays an evil vampire queen.
Prognosis: We've been excited about this film for a couple of years, and we're glad it's finally coming out. Let's hope it's as good as Clueless was.
---
November
Wreck-It Ralph (November 2)
A classic video game villain gets tired of being bad all the time, and goes on the run, visiting other video games and interacting with a lot of your favorite 8-bit characters. This film is the directorial debut of Rich Moore, who directed countless episodes of The Simpsons and Futurama. We saw a ton of footage at Comic Con, and it looked screamingly funny as well as really sweet.
Prognosis: It should rule.
Skyfall (November 9)
After M orders James Bond to be shot, he's presumed dead and also kind of miffed. And meanwhile, Javier Bardem's blond villain is hatching a massive scheme to take M and the whole spy shebang down.
Prognosis: The trailers look entertaining, although Bardem seems to be going a bit over the top. Director Sam Mendes has tons of flair, and we're hopeful that he can bring us back to the days of classic James Bond action.
The Twilight Saga: Breaking Dawn Part 2 (November 16)
The final installment in the five-film series, and by all accounts the weirdest. Once again, Bill Condon directs, and brings his love of horror films and outcasts to bear on the story of Bella's baby Renesmee, her werewolf boyfriend Jacob, and all the vampires who want to wipe them out.
Prognosis: We were hoping for great things from part one and found it kind of bland, although also intermittently disturbing. Here's hoping they saved the excitement for the finale.
Life of Pi (November 21)
Ang Lee adapts this magical-realist novel about a boy on a raft with a tiger and some other animals, and their strange survival story. And as one of our readers points out, the trailer includes a wee glimpse of the island full of carnivorous algae, complete with meerkats.
Prognosis: All the pictures and trailers look gorgeous so far. Here's hoping.
Red Dawn (November 21)
North Koreans invade the United States, in this remake of the classic 1980s "red scare" teen action movie. It's up to Thor and Peeta to save us all, by fighting back. It's sort of a dystopian near-future, where the North Koreans have a "new class of weapon" that uses EMPs to take down all the U.S. defenses.
Prognosis: It looks like an amazingly melty piece of cheese. It might burn your mouth, though, so it might be wiser to wait until it cools off a little, and comes out on DVD or something.
Rise of the Guardians (November 21)
Badass tough-guy versions of Santa Claus, the Easter Bunny, the Tooth Fairy and the Sandman enlist the help of a carefree Jack Frost to help stop Pitch, aka the Boogeyman, from harming the children of the world. Based on a book by William Joyce, who wrote the screenplay and also was heavily involved in the film.
Prognosis: It actually looks really fun, and we're kind of into the idea of Hugh Jackman as the Easter Bunny.
Universal Soldier: Day of Reckoning (November 30)
This has sort of gone under the radar — but Jean-Claude Van Damme and Dolph Lundgren are both back, and their characters are leading a kind of Universal Soldier revolution, aiming to found a new society where UniSols will force everybody else to kneel before them. But one man (Scott Adkins) is consumed by grief over his family's death and wants revenge. At least, that's what I'm getting from the trailer.
Prognosis: The first trailer looks amazingly, pleasingly violent. And I like the idea of a Universal Soldier supremacy movement, sort of like Khan's eugenics wars.
---
December
The Hobbit: An Unexpected Journey (December 14)
And finally, there's the first film of the new Hobbit trilogy, from director Peter Jackson. Everybody from the Lord of the Rings movies is back, and Martin Freeman is just perfect as the younger Bilbo Baggins. Bilbo gets recruited to be a "thief" and help a group of dwarves deal with a troublesome dragon. But first he'll have to face a number of other dangers along the way.
Prognosis: The footage we saw at Comic Con looked just astounding, and Freeman looks like he'll steal the movie. On the other hand, a lot depends on how much this gets padded out to save stuff for two more movies.
Sources: Box Office Mojo, Film Releases, Movie Insider and IMDB.