Everbody loves a good dark, horrible fantasy. A misanthopic adventure, in which everybody is morally compromised, and we all live and die in the dirt. But every now and then, it's nice to read a fantasy novel in which people are, you know... good.
So we decided to contact some of our favorite fantasy writers and editors, to get some recommendations for fantasy novels that are not just optimistic — but optimistic about human nature. This is just the first installment — we might have some more recommendations for you next week. Update: Now with Seanan McGuire!
Charles De Lint, author, The Painted Boy:
G/O Media may get a commission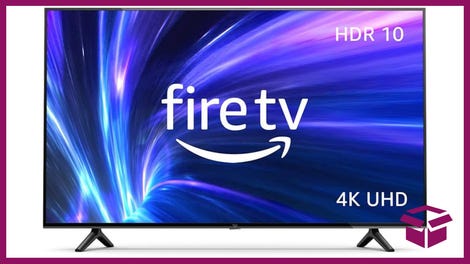 42% Off
Amazon Fire TV 50" 4K Smart TV
This is a good, fresh question and I didn't have to think long to come up with William Goldman's The Princess Bride. His classic novel has all the elements I require in a book: characters I care about, great prose, and a story that I can't guess the ending of after reading a few chapters. But it's also a book that makes me smile throughout. It's funny, sure — clever in places, slapstick in others — but what I liked best was that the characters really cared about doing the right thing throughout.
Karen Miller, author, The Reluctant Mage:
I'm kind of torn between a classic and something that should be a classic, and far better recognised. My first go to is The Lord of the Rings, because at the end of the day, though the ending is bittersweet, the better angels have triumphed. Not unscathed, nor unchanged, but the book gives me a sense of hope that courage and honour can defeat evil.
My other nominee is a series, and that's the Chrestomanci series by Diana Wynne Jones. There are many shades of grey in these books, and their characters, but I don't reach the end of the saga feeling hopeless and defeated. Maybe a bit battered, and sad for some, but like the Tolkien - there's hope that evil can be put back in the box. Image: "Drop It Already" by Chira-Chira on Deviant Art.
Tim Pratt, author, Briarpatch and Grim Tides:
I think Peter S. Beagle is great at such things — A Fine and Private Place and Folk of the Air both have their darkness, but are ultimately about how bright and wonderful the world can be, and how joy can be found even amid suffering and cataclysm.
And Neil Gaiman's The Graveyard Book is absolutely the most uplifting book I've ever read that starts with the murder of someone's entire family — it's reveals how you can create a new family from people you encounter in your life, and how broken people can find wholeness together.
Cat Rambo, author, Eyes Like Sky and Coal and Moonlight:
One of my favorite fantasy novels, and one I return to repeatedly, is John Bellairs's The Face in The Frost. It's a low-key and somewhat oddly constructed book, but I love the friendship between the two wizards and the fact that they're trying to do the right thing, without question and without guidance. It's something that matches my experience, the idea that people rise to the occasion and somehow muddle through, despite the odds against them. A lot of my favorite fantasy novels, both gritty and non-gritty, are about friendships and the strength we can draw from them in the quests we go through on a daily basis.
Lou Anders, editor, Pyr Books:
I should start by saying that my favorite fantasy falls on the dark, gritty side. I was much more of a Morcock fan than a Tolkien one, with my roots in swords & sorcery not epic, but with that caveat... Of all the books I've ever been associated with, the one I'm steering my own daughter to first when she's ready for adult SF&F is going to be Joel Shepherd's Sasha, book one of the Trial of Blood & Steel quartet. The books were described by one reader as being a whole series about Arya Stark, and the series does get a surprising number of (favorable) A Song of Ice and Fire comparisons, but Joel is far, far more uplifting. Sasha is a woman who forsakes her heritage and her class to pursue a sort of sword-based martial arts, which in an age of hack and slash broadsword fighting, gives her a technical advantage over most of her world. The books are written with an understanding of what someone can and cannot realistically do when they weigh half as much as their opponent. This, it turns out, is a surprising amount! I find the realistically empowered female lead so much more refreshing than the sort of Buffy-style waif who can fight only because they have some inherited magical ability that sets them apart from real people. The books also have a very strong message about the ability of one individual to overcome cultural biases and change their world. They are very uplifting, while being anything but naive.
Gwenda Bond, author, Blackwood:
Most recently, I'd have to say Kristin Cashore's Bitterblue. Even more than its predecessors Graceling and Fire, there is real darkness here, but also hope. Bitterblue is a young queen coming of age in a city still struggling to recover from the rule of her tyrannical mind-controlling father. As she works to uncover still hidden secrets of his rule, she's surrounded by people in denial but also by others trying to set things right—as she is herself. Even though the novel goes to some truly dark places, its faith in the strength that comes with surviving is a gift that absolutely restores my faith in humanity. It has meaningful things to say about the importance of kindness and honesty, of caring about and engaging with the world no matter how difficult, and about the healing that relationships can provide.
Mary Robinette Kowal, author, Glamour in Glass:
The first one that comes to mind is The Sun, The Moon, and the Stars by Steven Brust. It's focused on the act of creation, which is, I think, the thing that makes us most human. I love it because it doesn't shy away from the flaws in the main character, but his struggle with his own nature always leaves me inspired and wanting to create.
Seanan McGuire, author of the October Daye novels:
IT, by Stephen King. These kids, they're the losers, they're the lost ones, they're the ones with every reason to turn their backs, and they don't. They fight, they stand, they beat back the darkness, because it's the right thing to do. It's amazing how they can do that, and it makes so much sense within the story. I read this book whenever I start to wonder if humanity should just be fed to an evil clown. Which is pretty frequent.