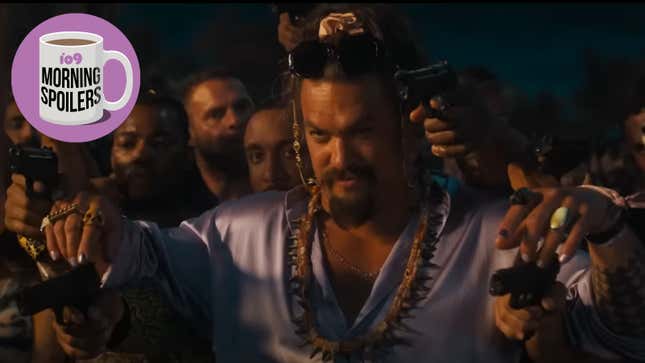 You probably shouldn't hold your breath for a second season of Obi-Wan Kenobi. Jughead seems to be writing Archie comics again on Riverdale. There's some kind of Wacky Races-type cartoon coming that isn't Wacky Races. Spoilers gonna spoil, baby.

The Woman Who Would Be Photon
---
Deadpool 3
Appearing as a guest on the Inside of You with Michael Rosenbaum podcast (via Deadline), Morena Baccarin stated she'd "like to think" she'll return for Deadpool 3, but the upcoming sequel is "going to be much more about Wolverine and Deadpool" than Vanessa.
Yeah, what is up with Deadpool 3? That's a really good question. I have to be very diplomatic about what I say here. I'd like to be in it. They have called me about being in it. Right now, we have not agreed on terms, and everybody's trying their best, and doing their best. But it may or may not work out. I don't know. I'd like to think so. I do think that this movie, since the acquirement of this Deadpool universe by Marvel/Disney, that merger that happened, I do feel like they're trying to reinvent it a little bit. I think this movie is going to be much more about Wolverine and Deadpool.
---
Night Swim
Bloody-Disgusting reports the supernatural horror movie Night Swim, about "the hidden source of terror found in an iconic backyard swimming pool," is now scheduled for a January 5, 2024 release date through Atomic Monster and Blumhouse. Wyatt Russell and Kerry Condon are attached to star.
---
Evil Dead Rise
DiscussingFilm has an enticing new poster for Evil Dead Rise.
---
Fast X
Meanwhile, a new behind-the-scenes featurette discusses Jason Momoa's villainous character in Fast X. "All right, dorks, what are we blowing up?" should definitely be the catchphrase of 2023.
---
Rally Road Racers
A slow loris (Jimmy O. Yang) teams with an impala (J.K. Simmons) for a Wacky Races-inspired rally down the Silk Road in the trailer for Rally Road Racers, co-starring Chloe Bennet, Lisa Lu, Sharon Horgan, Catherine Tate, and John Cleese.
---
Obi-Wan Kenobi
In conversation with Variety, Kathleen Kennedy confirmed a second season of Obi-Wan Kenobi "is not an active development" at Disney+.
[A second season] is not an active development. But I never say never, because there's always the possibility. That show was so well-received and [director] Deborah Chow did such a spectacular job. Ewan McGregor really wants to do another. Everybody's all hands on deck with what we're doing right now, as you can see by what we showed everybody [at Star Wars Celebration]. We'll turn our attention to that again maybe down the road.
---
Riverdale
Jughead begins writing for Pep Comics in the synopsis for "Tales from the Jugular Vein," the April 26 episode of Riverdale.
CORRUPTING THE YOUTH OF AMERICA — Principal Featherhead (guest star William MacDonald) takes aim at the negative influence comic books have over kids, just as Jughead (Cole Sprouse) is tasked by Pep Comics to write four tales for a new issue. KJ Apa, Lili Reinhart, Cole Sprouse and Madelaine Petsch also star. Jeff Woolnough directed the episode written by Greg Murray (#705). Original airdate 4/26/2023.
[KSiteTV]
---
Gotham Knights
On the night of his execution, Joe Chill makes a final request to Harvey Dent in the synopsis for "A Chill in Gotham," the April 25 episode of Gotham Knights.
THE LAST REQUEST — As Joe Chill (guest star Doug Bradley) is set to be executed for the murder of Bruce Wayne's parents, he turns to Harvey (Misha Collins) to make one final request — to speak with Turner (Oscar Morgan). Meanwhile, Stephanie (Anna Lore) seeks help from her dad Arthur Brown (guest star Ethan Embry) when she has trouble cracking a code, and Carrie (Navia Robinson) is forced to help at the hospital after her secret life of vigilantism lands her in hot water with her mom. Olivia Rose Keegan, Fallon Smythe, Tyler DiChiara and Rahart Adams also star. Alexandra La Roche directed the episode written by Nicki Holcomb & Nate Gualtieri (#106). Original airdate 4/25/2023.
---
Superman & Lois
Superman pays Bruno Mannheim a visit in the synopsis for "Of Sound Mind," the April 25 episode of Superman & Lois.
HOPE VS TRUTH – Clark (Tyler Hoechlin) finds himself in uncharted territory, and Lois (Elizabeth Tulloch) bonds with a new friend. Meanwhile, Superman pays Bruno Mannheim (guest star Chad Coleman) a surprise visit. Lastly, Lana (Emmanuelle Chriqui) puts Sarah (Inde Navarette) in charge while she away at a meeting with Chrissy (Sofia Hasmik). Diana Valentine directed the episode written by George Kitson (#306). Original airdate 4/25/2023.
---
Fantasy Island
Spoiler TV has photos from an upcoming episode of Fantasy Island titled "Peaches/The Jilted Bride." Click through to have a look.
---
Ghosts
The ghosts find Crash's severed head in the trailer for this week's episode, "Ghost Father of the Bride."
---
Yellowjackets
Finally, Lauren Ambrose makes her Yellowjackets debut in the trailer for next week's episode, "Old Wounds."
---