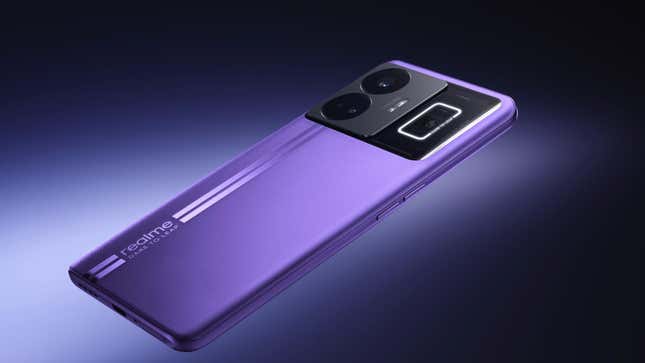 I feel pretty good if I can get my old, decrepit Google Pixel 3 to go from 0 to 40% charge in half an hour. Though, if I'm using something much more powerful than the 18W adapter that came with it, I can get somewhat faster speeds. Still, I'm not going to have a good time if I forget to charge the old man at night, then need to rush out in the morning.
How Good is the Battery Life on the Pixel 6a?
So here comes the GT Neo 5, a new Android phone released by Chinese company Realme, which claims it has the fastest charging capability of any phone yet released. According to GSM Arena, the advertised speed is 0 to 50% in four minutes and 0 to 100% in less than 10 minutes. That's thanks to a 240W fast charging capability. The GT Neo 5 is using a Li-Po 4600 mAh battery. Still, you can't remove and swap out that battery, so time will tell how long its charging capability will last.
As first noticed by The Verge, Realme streamed its phone announcements Thursday and showcased the GT Neo 5 then. The company's also releasing a 150W version of the phone, though both should have fast charging capabilities. Curiously, the smaller wattage version comes with a larger, 5,000mAh battery.

Small is relative here, though. For comparison, the Steam Deck's charger is just 45W.
As exciting as this all sounds, getting 240W of fast charging will require a beast of a wall adapter and a thick USB-C cord to go along with it. There's no wireless charging on the GT Neo 5, so in order to get the most of this fast charging, you'll have to lug around a real brick. Then there's also the question of how quickly its 144Hz screen and Octa-core processor will drain the battery over regular use.
Aside from its fast charging capability, the phone is decidedly middle range. It has three rear sensors: a 50 megapixel main lens, an 8 megapixel ultrawide, and a 2 megapixel macro lens. The company promised that the phone is capable of shooting 4K and 1080p at 30 and 60 FPS, according to the specs shown on GSMArena. The cameras don't have any night-time capability. The phone is currently only available in China, and the 240W version costs about $470, or 3,199 yuan. The 150W version is currently going for 2,559 yuan, or somewhere around $375.
Realme is part of a family of companies owned by the conglomerate BBK Electronics, which also encompasses the companies Vivo, Oppo, and OnePlus. The recently released OnePlus 11 also advertises fast charging speeds with a 80W adapter out of the box. Gizmodo's review found the more expensive device could get from 0 to 100% in 30 minutes, but it was also packing many more features and a better screen than these GT Neo 5 phones. The OnePlus 11 also needed the proprietary cord and adapter to reach the advertised speeds, so one can expect these Realme phones will need the same.