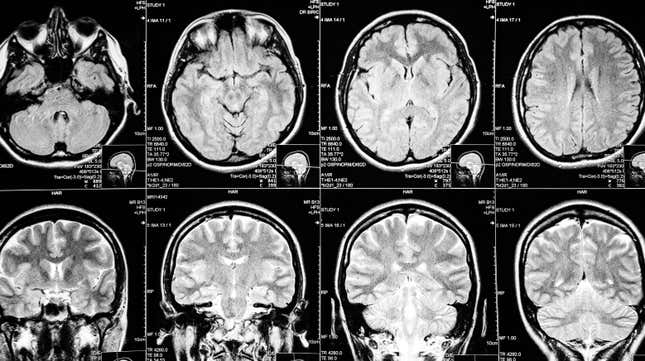 The Food and Drug Administration on Friday granted the conditional approval of a new treatment for people with early Alzheimer's disease: the antibody-based drug lecanemab, jointly developed by the pharmaceutical companies Biogen and Eisai. In a large trial, lecanemab appeared to slow down patients' cognitive decline relative to those on placebo. But some experts and consumer advocates have questioned the drug's safety and real-world value.
Mental Health Apps Are a Privacy Nightmare
Lecanemab works by targeting amyloid beta, a protein naturally found in the body that's thought to be a driving force behind Alzheimer's, the most common form of dementia. In sufferers, a misfolded form of amyloid builds up in the brain over time, leading to the accumulation of hardy clumps called plaques. By breaking down or preventing these plaques from forming, the theory goes, you can slow or reverse the progression of Alzheimer's, which is ultimately fatal.
The pivotal clinical trial that led to the FDA's approval involved nearly 1,800 patients diagnosed with early Alzheimer's. It found that patients taking lecanemab experienced a 27% slower loss in cognitive function over an 18-month period compared to the placebo group. Patients also appeared to have less amyloid plaque in their brains. The findings were revealed by the companies last September and were published in the New England Journal of Medicine in late November.
"This treatment option is the latest therapy to target and affect the underlying disease process of Alzheimer's, instead of only treating the symptoms of the disease," said Billy Dunn, director of the Office of Neuroscience in the FDA's Center for Drug Evaluation and Research, in a statement by the agency.
Some Alzheimer's researchers and patient advocates have lauded lecanemab as a breakthrough for the field. And the drug is the first anti-amyloid treatment to clearly demonstrate a statistically significant effect in slowing cognitive decline in a large trial. But other scientists have been more wary about its potential.
Though the drug may have performed significantly better than placebo, for instance, the actual clinical benefits it provides are likely to be modest. Based on the trial data, lecanemab might only give people three to five months of improved cognition at best, some outside experts have said, while others have argued that doctors, patients, and families are unlikely to see any noticeable benefits at all.
Lecanemab and other anti-amyloid drugs are also known to increase the risk of brain bleeding. Cases of this adverse effect appear to be typically mild, with most patients not even developing symptoms. But there have been at least three reported deaths linked to brain bleeding following the use of lecanemab, with the concurrent use of blood thinners possibly having contributed to at least two of these deaths. The FDA's approval will require a label warning of this increased risk, though it also notes that serious and life-threatening events are rare.
Lecanemab, which will be sold as Leqembi, isn't the first anti-amyloid drug to be approved by the FDA. In June 2021, the FDA approved the drug Aduhelm, also developed by Biogen and Eisai. The trial data supporting Aduhelm's approval was even more ambiguous than in lecanemab's case, and the agency was accused of pushing through a possibly worthless drug. In the wake of its approval, many doctors openly refused to prescribe Aduhelm, and Medicare eventually ruled that it would not routinely cover the drug until clear evidence of its benefits is collected. Last week, a Congressional report found that the FDA repeatedly skirted its own rules and that it had an "atypical" and close relationship with Biogen throughout the approval process.
Aduhelm and lecanemab were both greenlit under the FDA's accelerated approval pathway. This designation allows companies to speed up a drug's approval by only having to present indirect evidence that it will be clinically meaningful to patients, though they are required to eventually provide clear data of its benefits. Unlike with Aduhelm, FDA did not call for an outside advisory committee to review the evidence for lecanemab prior to its approval. Notably, in deciding to approve Aduhelm, the agency went against the committee's recommendations, leading to the resignation of several members.
This likely isn't the end of lecanemab's journey through the regulatory process. Due to Medicare's earlier decree on Aduhelm, lecanemab won't be covered unless it receives a full FDA approval. Soon after the accelerated approval was announced, Fierce Pharma reported that Eisai and Biogen plan to file for full approval "within days." The drug makers have also said that its launch price will be $26,500 a year, which is about half as much as the initial list price for Aduhelm—another factor that fueled widespread criticism of the drug.