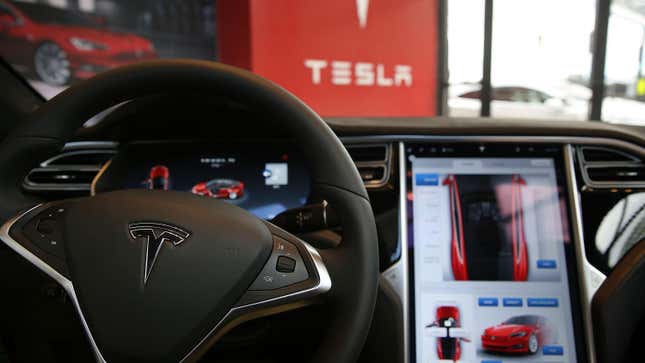 One of Elon Musk's numerous tweets is now part of an ongoing federal investigation into the safety of Tesla's automated driver-assistant system. The National Highway Traffic Safety Administration requested more information from Tesla about a December 31 post from Musk, as first reported by the Associated Press and confirmed by NHTSA in an email to Gizmodo.
Tesla Investors Not Happy With Mr. Tweet's Tweets
In that aforementioned, New Year's Eve post, Musk insinuated that certain Tesla drivers don't need reminders to keep their hands on the steering wheel, and claimed the company was working on a software update to curtail such alerts.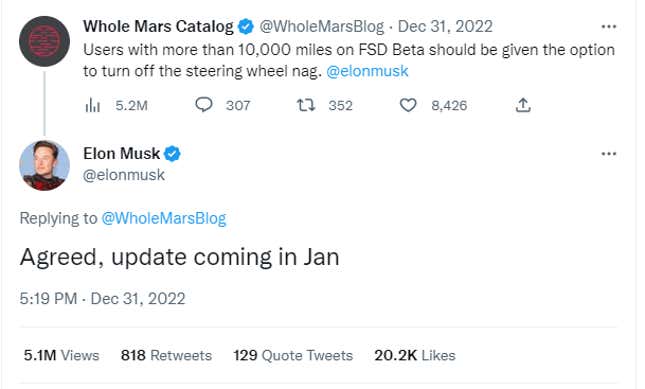 The NHTSA has been probing Tesla over its Autopilot software since 2021. Last summer, the federal watchdog announced a big expansion of that investigation, after identifying at least 16 instances of Tesla cars crashing into first responder vehicles. And another federal regulator, the U.S. National Transportation Safety Board, has been investigating Tesla over individual crashes and other incidents for years.
Yet amid the federal scrutiny, Tesla began widespread beta testing of its "Full Self-Driving" mode in September 2021. Full Self-Driving is meant to be a more advanced version of Autopilot, though is still not—as the name might imply—actually fully self-driving. Both Autopilot and FSD require a human driver to remain alert at the steering wheel at all times, according to the company's website.
But the majority of drivers using the features reported feeling "comfortable" treating the vehicles as autonomous, and fully self-driving, according to a 2022 survey from the Insurance Institute for Highway Safety. Perhaps that attitude partially explains why Tesla reported more driver-assisted related crashes than any other carmaker in 2022.
This past October, the Justice Department launched a criminal probe into Tesla over its autonomous driver assistance technology and the way the company has marketed it, adding to the pile of federal investigations. And in December, California passed a law banning the "Full Self-Driving" label that will go into effect this year.
On top of Tesla's misleading advertising, regulators have routinely noted that part of the automaker's safety issues stems from a lack of driver monitoring. Competing companies in the driver-assistance space like GM and Ford use camera-based eye-tracking to ensure driver attention, according to a report from The Verge. Tesla, instead, relies on steering wheel detection. Vehicles with FSD and Autopilot activated issue automatic reminders to drivers to mind their steering wheels if the car detects no hands are present, after a certain period of time. (Nevermind that it's scary easy to trick the steering wheel detection system.)
This brings us back to the Tesla CEO's December tweet. An account user under the name @WholeMarsBlog tweeted that, "users with more than 10,000 miles on FSD Beta should be given the option to turn off the steering wheel nag," in a post tagging the billionaire. Musk then responded, "agreed, update coming in Jan."
It's not clear what Musk meant exactly by this tweet. After all, an "update" could mean that Tesla is switching over to a Ford-style camera monitoring system, or it could mean that the timeframe for warnings will be adjusted, as it has been before, as pointed out by the AP.
Yet in the immediate context of @WholeMarsBlog's initial tweet and use of the term "nag," the implication seems to be that steering wheel alerts are unnecessary for Tesla drivers who have put a certain number of miles on their cars. The tweet could even be taken to mean that Tesla drivers using FSD don't need to be monitored or reminded to stay attentive. Regardless of the exact meaning, the tweet was worrying enough to catch the attention of the NHTSA.

A spokesperson from the administration wrote to Gizmodo that it "is in contact with Tesla to gather additional information," regarding the tweet. "This issue falls under NHTSA's ongoing Autopilot investigation, and the agency generally does not comment on open investigations," the spokesperson further noted.
Disabling Tesla's already thin driver monitoring system could pose an additional safety risk to other drivers on the road, Jake Fisher, an auto testing expert at Consumer Reports, told the Associated Press. "Using FSD beta, you're kind of part of an experiment," Fisher said. "The problem is the other road users adjacent to you haven't signed up to be part of that experiment."
Tesla did not respond to Gizmodo's questions or request for comment. The company dissolved its PR department in 2020.
It's not the first time that a tweet has landed Musk in hot water with federal regulators. In 2018, he joked that he was "considering taking Tesla private at $420," and ended up paying a $20 million fine over it. Then, again, in 2019 he faced scrutiny from the Securities and Exchange Commission over posts that seemingly contradicted Tesla's legally mandated quarterly report to shareholders. In 2022, the SEC had questions about Musk's Twitter-purchase-related tweets. This is all to say: the man doesn't seem to learn—or he simply cannot escape the urge to post. The social media platform, which he now owns, appears to have more of a grip on him than any company board or federal regulator ever has.