Go, go, Team Venture! Adult Swim has finally released details on the mysterious new Venture Bros. special (From The Ladle To The Grave: The Story Of Shallow Gravy). Plus get a first look at their new series NTSF:SD:SUV.
NTSF:SD:SUV::
Hilarious comic Paul Sheer has crafted an amazing rip of all the cop shows that dominate our TV channels and wrapped them into one hilarious spoof. His team includes a Ghost Whisperer, Karate Twins, Bikini Model Assassins, a Tom Cruise impersonator, a robot and a Detective from the 70s (to name a few). Yeah, we're sold.
NTSF:SD:SUV::-NTSF:SD:SUV:: (National Terrorism Strike Force: San Diego: Sport Utility Vehicle), is a clandestine team of government agents working together to protect San Diego from numerous terrorist threats coming in daily from such evil countries as Mexico, Canada and Guam. This team of highly trained operatives has only one job: saving your ass so you can drive your Prius and see your movies in 3-D without worrying about living in a country run by no-good terrorists. As with many other acronym-ed police procedurals that dominate the airwaves, NTSF:SD:SUV::'s season of 15-minute episodes is ripped from the headlines and full of suspense, action, drama, cliffhangers, yelling, passionate love-making, more yelling, death and plenty of pregnant pauses. NTSF:SD:SUV:: is created by Paul Scheer and stars Scheer, Rebecca Romjin, Rob Riggle, Kate Mulgrew, Brandon Johnson, June Diane Raphael, Martin Starr and S.A.M., the first sentient robot on television. Paul Scheer and Jonathan Stern are executive producers. Curtis Gwinn is co-executive producer. Series premieres this summer on Adult Swim.
Venture Bros.
It's been a long time since we've had any fresh VB news. While we anxiously wait for the new season, details have dropped about the new short that Doc Hammer and Jackson Publick will drop this summer (July 24th)! The 15-minute special, titled "From the Ladle to the Grave: The Story of Shallow Gravy," will reveal the back story behind Hank Venture, Dermott Fitctel and H.E.L.P.eR.'s band! More details in this press release.
THE VENTURE BROS. SPECIAL-FROM THE LADLE TO THE GRAVE: THE STORY OF SHALLOW GRAVY-See the Venture Family as you've never seen them before: in a 15-minute documentary-style animated special. Follow the meteoric rise, the equally meteoric fall, and the decidedly un-meteor-like second coming of the most important band Hank Venture, Dermott Fitctel and H.E.L.P.eR. robot have ever been in: Shallow Gravy. If you're hungry for rock, then open wide, because here comes a ladle of heavy metal fire and metaphoric meat drippings. Launched on Adult Swim in August 2004, The Venture Bros. is an inspired spoof of 1960s action cartoon shows such as Johnny Quest. Created by Jackson Publick III (King of the Hill, The Tick), the 30-minute animated series follows the bizarre misadventures of the Venture family. The Venture Bros. Special-From the Ladle to the Grave: The Story of Shallow Gravy premieres July 24 on Adult Swim.
G/O Media may get a commission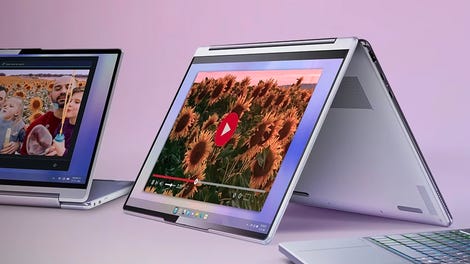 up to 70% off
Lenovo Spring Clearance
Venture Bros image by Drake Tsui.