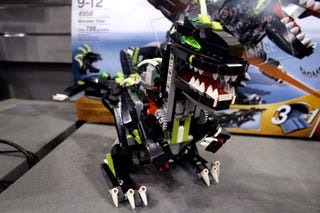 LEGO introduced its latest entries in the Creator series at Toy Fair. These use the same pieces and some of the sensors, gears and motors from the Mindstorms set, but don't require an engineering degree to put together or any software skill to operate. Details on the crane, crocodile, and a photo gallery after the jump...
The dinosaur walks, moves its head and roars using a remote control. It can also be made into a walking spider and a crawling crocodile. It will retail for $89.99 when it comes out in August.
The Ferris Wheel must be over two feet high. It's fully functional, and can be turned into a crane or working drawbridge (which both sound more interesting to me). This will sell for $69.99, and is also available in August.