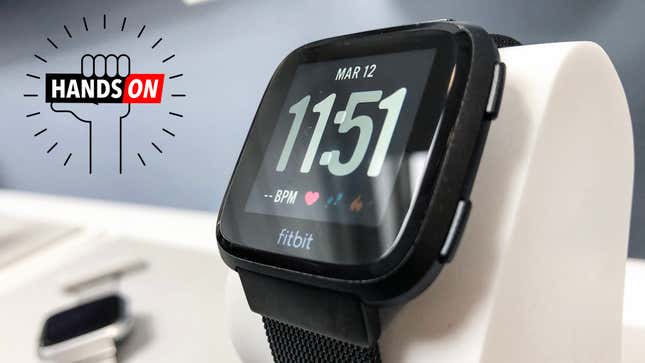 I haven't asked for a lot from Fitbit over the years. Really only one thing. I would like another Pebble—a gorgeous smartwatch that lasts for days, has a healthy selection of apps, and isn't sized to fit the wrist of a seven foot tall, 300-pound football player. Finally, I think, Fitbit might be giving me what I wanted.
The Boogeyman's Sophie Thatcher Reveals What Draws Her to Dark Characters | io9 Interview
Fitbit's acquisition of Pebble was the silver lining when it became clear that Pebble wasn't going to make it at the end of 2016. Indie smartwatch fans were screwed by the shutdown—their e-ink watches doomed to junk drawers once support lapsed—but there was reason to believe that Pebble, or at least its essence, could one day rise from the dead. That's because Fitbit gobbled up a portion of Pebble—its IP and engineers—to smarten up its own fitness trackers and compete with Apple.
But for the last year and some change, Fitbit has failed to deliver on the potential Pebble provided. Fitbit's first full-featured smartwatch post-Pebble was no Pebble. The Ionic was ugly and large and it launched without support from key apps (or basically any apps, honestly). But today Fitbit is announcing a second smartwatch post-Pebble, and it warrants attention from lovesick Pebble fans and folks wanting a cheaper alternative to an Apple Watch.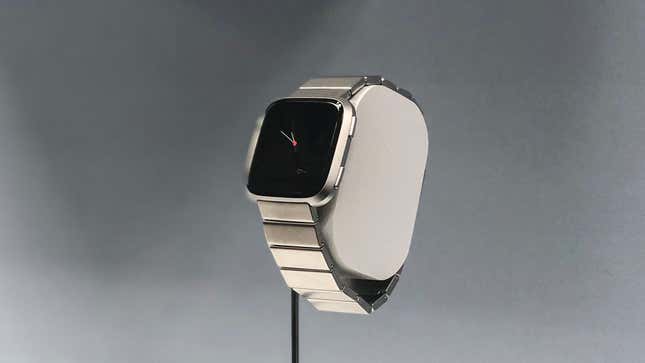 The Versa doesn't look much like a Fitbit and that's a good thing. It looks more like the venerated Pebble Time Steel. At first glance, it isn't quite as refined as the Apple Watch, but at $200 it's also $50 cheaper that Apple's cheapest competitor, the Series 1. The Versa will come with standard smartwatch features like all-day heart rate monitoring, smartphone notifications, and an app store. It's sacrificed GPS support in exchange for what Fitbit promises is a solid four-plus days of battery life. The lack of GPS feels like a big omission—the beauty of the latest breed of smartwatches is how they don't need to be tethered to a phone—but if it means a cheaper watch that lasts longer it might be survivable.

At least the Versa will feature other stuff we've come to expect from both smartwatches and fitness trackers. It can store up to 300 songs on the watch itself, as well as pair with Pandora through your phone. There's also the standard heart rate and sleep tracking that Fitbit does, and a new period tracker feature.
That feature is really just a version of the multitude of period apps you can already get on your phone. You can track your period by marking it in the calendar and letting the calendar figure out the average cycle. It's not a game-changer by any means, but it's always been a little odd that Fitbit would be so focused on fitness and the wellbeing of the body but ignore something that can radically alter the bodies of half the population once a month.
Besides launching a smaller watch that will work on a wider variety of wrist sizes, Fitbit is also offering a broader range of color schemes—embracing the rainbow as it has with its more traditional fitness bands. The finishes planned for the Versa—black, silver, and rose gold—while unimaginative, look good, and will be paired with a whole slew of different band styles like a Milanese Loop, woven bands, and leather ones, too. The Versa actually seems flexible enough to look nice on any wrist.
Optimistically, the Versa is a Pebble Time Steel with more money behind it. But Fitbit wants and desperately needs mass-market appeal; the Pebble failed to achieve that by a fat margin and Fitbit can't afford to release a smartwatch that only fitness nerds can get behind. While Fitbit clearly made some compromises to get this device out the door at a reasonable price and with decent battery life, this second attempt at a smartwatch looks way more promising and interesting than the first.
Even the software looks a little more polished than the Ionic iteration of Fitbit OS. Fitbit OS is Fitbit's answer to the old, and excellent, Pebble OS that provided Pebble watches with a great range of apps. When it launched on the Ionic we were completely unimpressed, but Fitbit claims to have put a lot of effort into improving the software and providing more app support. If Fitbit pulls it off then this really could be that proper successor to the Pebble. But we won't know how well the software has improved, or be able to test any of Fitbit's other claims, until the Versa launches in April.