Fitbit makes tons of things—from scales and smartwatches to wireless headphones—but mostly, Fitbit makes fitness trackers. It's sold tens of millions of them, and it keeps releasing new ones even as interest in its trackers declines. Just this month, Fitbit upgraded its most popular fitness tracker line ever, the Charge, with an improved touchscreen and water resistance, and let me tell you, the new Charge 3 is excellent—if all you're looking for is a casual fitness tracker. Its upgraded display makes it easier to use. The new "swimproof design" offers much-needed peace of mind for a gadget you'll probably sweat on and shower with. It has everything you'd expect to find in an everyday fitness tracker. My only hesitance in recommending one is this: Is a basic fitness tracker really something you want in 2018? Well, is it?
The Boogeyman's Sophie Thatcher Reveals What Draws Her to Dark Characters | io9 Interview
For Fitbit and fitness tracker fans, the $150 Charge 3 is a real test. Fitbit has proven its quintessential fitness tracker can still get better. But as smartwatches grow more capable and, in some cases, affordable, is Fitbit doing enough to keep us interested?
Beyond its two big upgrades, there are a few more noteworthy changes. The Charge 3 is slimmer than the Charge 2, and its screen is brighter and bigger—"40 percent" bigger, according to Fitbit. There's still a button on the side of Charge 3, but this one is "inductive" and hidden; it's responsive and buzzes with just a bit of pressure with your thumb. The battery life on the device should last seven days, Fitbit says, and indeed I've only charged it once since I got my hands on it. The touchscreen on the Charge 3 looks crisp from any angle and is plenty responsive, but it doesn't display colors. This is mostly fine, but boring, and it falls short when the device tries displaying an emoji someone's texted me.
What else? Fitbit says the 3's heart rate tracking is better, and it now has a SpO2 sensor to estimate how much oxygen is in your blood. That sensor helps it "track new health indicators, like sleep apnea," says Fitbit. I hate sleeping with anything on my wrist, but the device can track your sleep, as well as the usual selection of exercises like biking, swimming, running, walking, and yoga.
There's also guided breathing and in-house "apps" on the gadget like weather, a timer, and alarms. Navigating around these options on the device is a cinch, which was a nice surprise, but there's not a whole lot there for you to play with. Were you expecting more?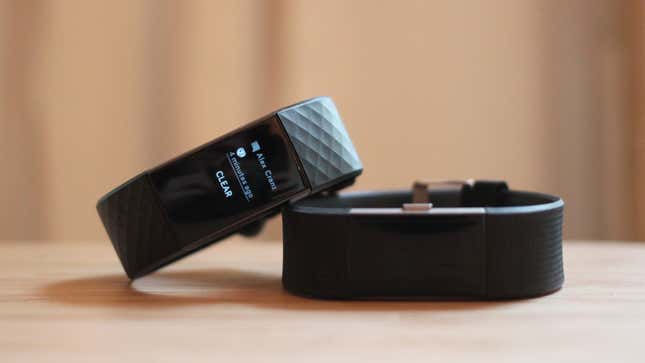 Technically speaking, the Charge 3 should meet most if not all of your daily fitness tracking needs. If you think something's missing, you might just want a smarter or more specialized device. For running, I'd like GPS, GLONASS, cadence tracking, and Strava support, and while it would be nice to find all that in the Charge 3, that's a lot to ask from a device which—I know I'm repeating myself here—is for casual, everyday use and costs $150.
But I didn't always feel this way.
Just a few months ago I even called GPS a major omission from the Charge 3 when rumors first bubbled up. And sure, GPS would scratch the itch that's led me to try some Garmin watches, but after spending weeks with the Charge 3, I no longer believe any single missing feature is the problem. My only concern is that most fitness trackers now just seem too boring, as smartwatches eat into their share of the market. Despite Fitbit's success in making the Charge 3 better than the 2, Fitbit hasn't done much to make its quintessential tracker any more interesting or fun.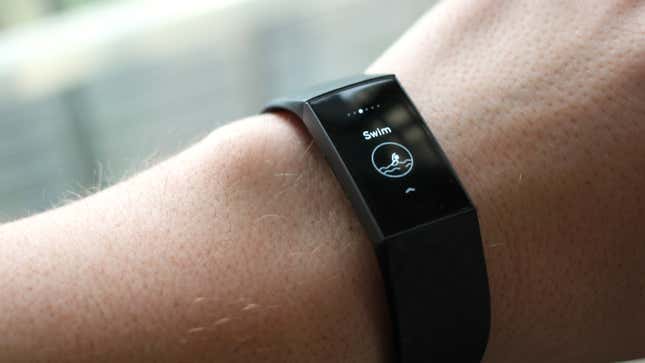 Day to day, wearing a Charge 3 is a lot like using any other tracker, like the Charge 2 or even the Withings Steel HR Sport. In the morning I strap it on and only notice it occasionally—when my phone buzzes and a notification pops up, when I haven't moved for an hour, and whenever I need to check the time. Fitbit has done some work to automatically detect not only when you're exercising but also what you're doing. So while you can manually tell it to track a run, you could just start running instead and tell it when you're done. At first this made me a bit nervous—like it wouldn't give me credit for my hard-earned exercise, but it worked as advertised. As for looks, I haven't gotten compliments on it (as I did with the Steel HR Sport), but Fitbit has made some progress in making its trackers less visually loud over the years. It looks alright and could look better.

This past Saturday, I wore the Charge 3 for my first half marathon, and while it helped me keep tabs on my time, and buzzed when I got 10,000 steps, I never expected it to accurately track my distance without relying on the GPS from my phone, which I didn't carry with me. To my surprise, it got kinda close! The Charge 3's guess, based on my steps and estimated stride length, was off by only 0.78 miles.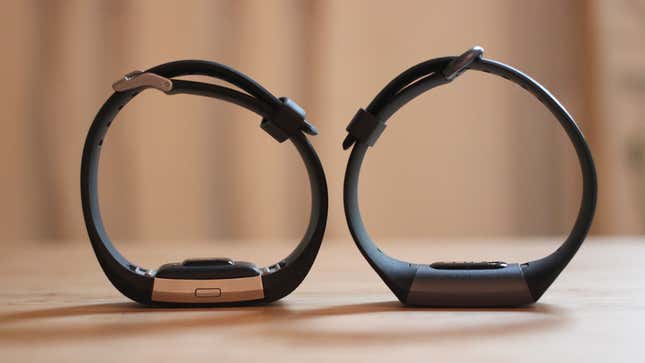 As an aside: I had trouble getting the weather to sync on the Charge 3, as have others. That appeared to get magically fixed after I updated the device the other day, but then few days later I encountered the issue again.

As with all fitness trackers, it's nice to be able to see how many steps I've taken throughout the week. The optional hourly reminders to move have probably helped me net a couple thousand extra steps here and there, but I've found them increasingly easy to ignore—and less sticky next to newer motivational schemes, like the rings on the pricier Apple Watch. Fitbit offers fun ways to compete with friends with its app, but unlike a few years ago when my parents and some friends used Fitbits, today many of those people seem to have given up on the idea, or switched to smartwatches and more specialized devices. That's why I didn't spend time with the social features in the app, but you might have a different experience. Plenty of people still use Fitbits.

As an everyday tracker, the Charge 3 does everything it needs to do. But as with everything in life, it could do more. Fitbit could cater to the more niche demands of athletes, and it could continue nudging its Charge line towards smartwatch territory every few years. But unless Fitbit has some brand new idea in mind for what everyday fitness tracking can be—and no, it didn't come up with anything meaningfully new this time around—then doesn't it stand to reason that fewer and fewer people will continue buying these things?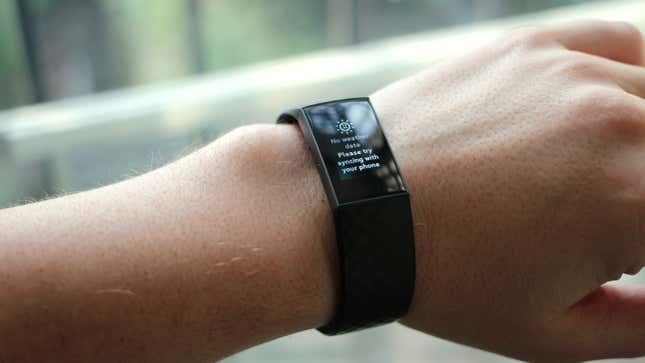 You could argue the writing was on the wall when Fitbit launched the $200 Versa smartwatch last year, priced only a bit higher than its nicer trackers. And when the company repurposed an old design to get parents to buy a tracker for their kids, it sure looked like Fitbit was running out of ideas, or that it didn't want to spend too much time on another tracker. The press release for the Charge 3 reads in part like a frustrated argument for the fitness tracker's relevance.
The fitness tracker is still here. Nobody knows that better than Fitbit, which practically owns the market. But Fitbit tracker sales are falling. That's part of why Fitbit is losing money, however, the chunk of its sales that come from smartwatches is growing. And the Versa is pretty good! In June, Fitbit called it "the fastest selling product in Fitbit history."

All this is to say that no matter how much more refined Fitbit can make the Charge, the fitness tracker just isn't as exciting to people as it used to be. I'd argue it's gotten stale, but I don't expect everyone to agree with me.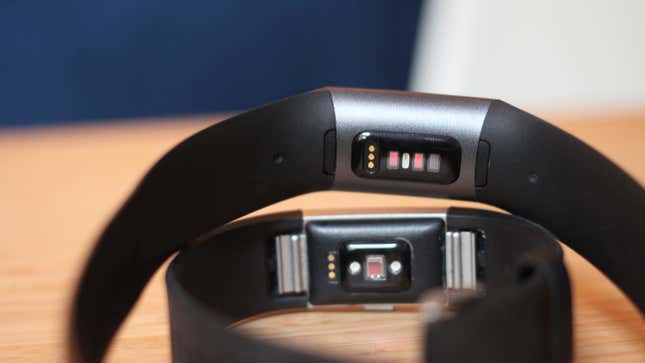 If you're still happy with your old Charge but think it's time for a new Charge, this is a pretty good upgrade no matter if you've got a Charge HR, a Charge 2, or something similar. If you've never really gotten into fitness trackers, but want to dip your toes in the scene, then sure—try this one out. But the tide has already turned towards smartwatches, and there's nothing I can imagine that Fitbit could dream up to stop this shift in the long run. The marquee selling point for fitness trackers has increasingly come down to price, and for now that remains a good reason to avoid fancier trackers and smartwatches. If price is a major factor for you, you might just want an $80 Fitbit Alta, or the $130 Alta HR for your daily tracking needs.
Still, at $150, the Fitbit Charge 3's price feels more than fair. I stand by my point that this really is the casual fitness tracker, perfected. But while that may have been an exciting phrase a few years ago, in 2018 it's starting to feel like a thing of the past.
README
If you loved the old Charge, you'll love the new Charge. Otherwise, we'll forgive you for falling asleep.
The Charge 3 doesn't break new ground conceptually, but the touch screen and water resistance are welcome upgrades.

Fitbit's budget smartwatch is way more interesting and not a ton more expensive, at $200.