A security camera is a useful tool for providing evidence when something obvious happens in your home, but what's happening during all the other hours it records that you simply don't have time to watch every night? FLIR's new FX Wi-Fi camera uses intelligent motion tracking to create a simultaneous replay of everything it's captured happening throughout the day so you can easily review it in just minutes.
FLIR has long been known for its professional-grade thermal and other imaging products, but following up on the success and popularity of the FLIR ONE smartphone accessory, the company is continuing to make its technologies available in consumer-level products that don't cost thousands and thousands of dollars.
The FLIR FX, positioned as a sort of Dropcam/GoPro competitor, is a compact 1080P Wi-Fi-enabled camera with a wide 160-degree field-of-view, a microSD slot (with an 8GB card included), two-way audio communication, and six built-in IR LEDs giving it night vision with a range of about 33 feet. When used on its own it has a wireless runtime of about two hours of continuous recording, but that doubles to around four hours when perched on its included indoor stand. And at any time the FX can also be connected its microUSB power adapter letting it run and record indefinitely.
G/O Media may get a commission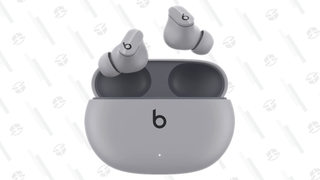 One of the biggest advantages to internet-connected security cameras is that they allow footage to be recorded remotely so it's always safe, but also easily accessible from a mobile device. So FLIR is also introducing an online cloud storage service for the FX, as well as accompanying iOS and Android apps, allowing live feeds or recordings from the camera to be accessed and viewed wherever you are.
For redundancy reasons the camera captures to both its own microSD card and the cloud at the same time in the event the Wi-Fi connection the FX is relying on goes out. When no internet is available it will continue recording to its microSD card without interruption, and when it's able to connect to Wi-Fi again it will then upload and backup all the footage it's captured locally.
But since watching through a full day's worth of security footage probably doesn't sound like the most exciting way to spend every evening, the FLIR FX uses server-side image processing technology called RapidRecap to generate a sort of instant replay of what the camera has recorded throughout the day. It's essentially a highlight reel that combines all of the day's automatically-detected activity into a much shorter clip (or multiple clips if it's been a particularly busy day) that includes overlaid time stamps of when each event occurred.
If something in the RapidRecap happens to jump out at as being suspicious or worth a closer look, the user can simply tap on a specific time stamp in the replay video to jump right to when that footage was recorded for review or saving if it's important.
The FLIR FX apps and cloud service even let you set up instant alerts for those times when you want to know the second something suspicious is happening. But to ensure your smartphone or tablet isn't bombarded with a constant stream of false-positive alerts when your dog wanders into the living room, or a bird lands in your backyard, the FX includes a clever SmartZone feature. Users can specify hot spots in a stream using a customizable grid and alerts will only be sent when motion is detected in those regions. In other words, it's the perfect way to keep your dog off the furniture while you're not at home.
The FLIR FX can even be used as a 30 FPS action cam when paired with an optional weatherproof housing that includes a standard tripod mount on the bottom. Recording can be manually stopped and started using a single button on top of the camera, but the FX can also create its own mobile Wi-Fi hotspot allowing you to connect a mobile device directly to it for stopping and starting recordings, capturing photos, or reviewing footage right from the app.
Available for pre-order starting today, the indoor version of the FLIR FX, which includes a stand and other mounting hardware, will sell for $199. While an outdoor version, which adds a weatherproof housing that includes additional IR LEDs for enhanced night vision capabilities, sells for $249. There's also the aforementioned optional sport housing for using the FX like an action camera, and a windshield mount so the device can be used as a dashcam.
The FX's accompanying cloud services will be available in three subscription tiers, starting with a free option called FLIR Cloud Basic that stores videos dating back 48 hours and allows the user to generate three of the RapidRecap highlight clips each month. But there's also a $10/month or $100/year FLIR Cloud Plus option that boosts that to seven days of storage and unlimited RapidRecaps, and a $20/month or $200/year FLIR Cloud Premium option that provides 30 full days of online storage for your footage.
In terms of image quality the FLIR FX certainly can't compete against the more expensive GoPro which is now capable of capturing footage at 4K resolutions. But it's also a considerably cheaper option that still does full 1080P recording. And since you can also use it as an advanced security camera or even a baby monitor, suddenly that $200 price tag sounds like a fantastic deal if you don't spend every waking minute on a mountain bike. [ FLIR]