According to a lawsuit by the online American College of Education (ACE), a former employee effectively held the company's email system hostage after he was fired last spring, locking the for-profit college out and asking for $200,000 before he would help it get back in.

Last year, the school says it began eliminating IT workers until Triano Williams was left as its sole system administrator. In April, he, too, was let go. When students returned for classes, however, they found themselves unable to access their school email accounts or coursework.
The college says it tried to log into the email system's Google administrator account, but was locked out after too many failed attempts. From the Indy Star:
School officials asked Google for help. Google, the college said, refused to grant access to anyone other than Williams, who was listed as the account's sole administrator.


When officials called Williams, he directed them to his lawyer.

"In order to amicably settle this dispute, Mr. Williams requires a clean letter of reference and payment of $200,000," attorney Calvita J. Frederick wrote in a letter to the college's attorney.
For his part, Williams says that the password the school sought was autosaved on a work computer he returned to the college, which lost access as a result of its own errors. (The school claims Williams erased the computer before giving it back.) Furthermore, Williams says that the $200,000 he requested was intended as an out-of-court settlement for a pending racial discrimination claim against the company.
"ACE through several of its employees and administrators contacted Williams and asked his assistance in resolving the issue, which requests were refused by Williams, who was no longer an ACE employee," wrote a lawyer representing Williams in his own lawsuit. "ACE offered no compensation to Williams for the task they wanted him to perform after termination."
G/O Media may get a commission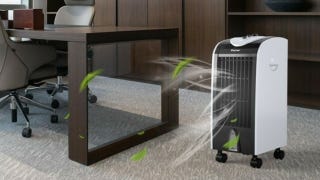 Save $10
Evaporative Portable Air Conditioner Cooler with Filter Knob
In the end, it will be up to the courts decide who's to blame over the mishap, but one fact is beyond dispute: Hell hath no fury like a sysadmin scorned.