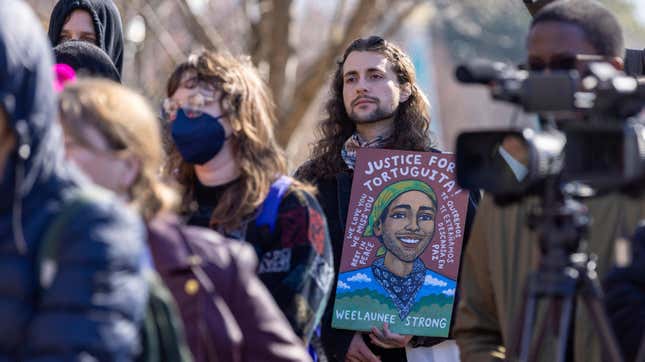 Police charged twenty-three additional people with domestic terrorism felonies in Atlanta, Georgia this week, after arresting dozens in alleged association with ongoing protests against the construction of a planned police training facility. The reasoning for these new, hefty charges: dirty shoes, according to a report published Wednesday night from the Intercept.

Meet Microsoft's New Surface Laptops
In the arrest warrants, referenced by defense attorney Eli Bennet during a Tuesday hearing, police cited the mud present on some of the defendants' footwear as evidence that they had been involved in vandalism and arson more than a mile away from the site of the arrests, per the Intercept. The warrants also referenced defendants having phone numbers written on their arms and that a few of them allegedly carried shields.
From the outlet:
The probable cause stated in the warrants against the activists is extremely weak. Police cited arrestees having mud on their shoes — in a forest. The warrants alleged they had written a legal support phone number on their arms, as is common during mass protests. And, in a few cases, police alleged protesters were holding shields — hardly proof of illegal activity — which a number of defendants even deny.

The arrests were made when police swarmed a music festival in a public park over the weekend. Demonstrators held the "family-friendly" festival nearby—but not at the frontline of—continuing protest actions against the sprawling, planned training center (nicknamed "Cop City"), according to a statement from the Defend the Atlanta Forest coalition.
At the park, police arrested 35 alleged vandals on Sunday night who were attending the series of musical performances organized by the activists. The cops accused the arrested attendees of committing acts of arson and other property destruction, and charged 23 of them with domestic terrorism, according to multiple reports.
Out of the 23 charged, just one was released at the Tuesday hearing. That defendant, an attorney who'd been acting as a designated legal observer for the National Lawyers Guild, was let out on a $5,000 bond, per the Intercept. The remaining 22 were denied bond, and remain jailed.
The latest arrests bring the number of people charged with domestic terrorism in relation to Cop City to over 40, as nearly 20 were previously charged in January. In Georgia, a domestic terrorism conviction carries a maximum sentence of up to 35 years in prison.
Prior to the Sunday arrests, a particularly intense confrontation between police and protestors had broken out. A subgroup of the anti-Cop City abolitionist and environmental activists allegedly targeted the construction site of the $90 million Atlanta Public Safety Training Center earlier in the evening, according to a police press release. Law enforcement officials claimed protestors threw rocks, fireworks, and Molotov cocktails—damaging construction equipment.
Protestors are opposed to Cop City for various reasons. Some environmentalists hope to see the 85 acres of city-owned land that's been granted to the police department turned into a public park instead of a closed training ground. They also say that cutting down 85 acres of forest would be damaging to the local ecosystem. The total 400 acres of forest that would contain the training center is one of Atlanta's last and largest remaining greenspaces, according to a report from the New Yorker.
Another predominant theme in the pushback stems from concerns over how the very expensive Public Safety Training Center could, in fact, harm the public. Both activist groups and regular Atlanta locals have expressed fears that, if built, Cop City will lead to a more militarized police force—with particularly dangerous consequences for Black people living in the city. Forest defenders, as many of the protestors refer to themselves, have described the planned facility as a place where police would be practicing "urban warfare."
In Atlanta, Black people are about 14.6X more likely to be arrested for non-violent offenses than white people are, according to data from the non-profit Police Scorecard. In nearly one of every 1,000 arrests, Atlanta police employ force. In about 3.2 out of every 100,000 arrests, Atlanta police shoot the person. 88% of the people killed by Atlanta police officers are Black, Police Scorecard notes.
In a public comment period soliciting feedback on the training center proposal in September 2021, Atlanta's city council received over 1,700 hours of remarks from people. About 70% of those comments opposed Cop City's construction, per the New Yorker. Yet the city council approved it anyway.
The activists who have subsequently set up shop occupying the surrounding forest and working to delay and stop the facility's construction are accused of damaging property. In response, dozens of them have been charged with terrorism. Yet the protestors haven't killed anyone. Police, on the other hand, have. Officers shot and killed activist Manuel Esteban Paez Terán, who went by Tortuguita, on January 18.
Cops claimed the 26-year-old fired first with a purchased handgun. A state trooper was shot at the scene and later reported to be in stable condition. However there were no civilian witnesses to the shooting, and the state investigation bureau has said there's no body camera footage of the incident. Many of Tortuguita's friends described them as professing nonviolent ideology, and have expressed doubts about law enforcement's version of events.