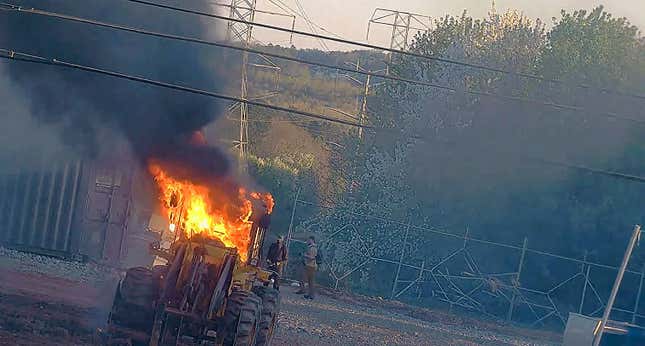 Last night, a conflict broke out at Atlanta's yet-to-be-built Atlanta Public Safety Training Center—nicknamed "Cop City"—which saw police and protestors clash, while the latter reportedly threw rocks, fireworks, and Molotov cocktails.

Misha Collins on What Made Supernatural Successful
The conflict occurred Sunday around 5:30 p.m. in Atlanta. According to a release from the Atlanta Police Department, the protestors changed into black clothing and targeted the equipment at the construction site of the $90 million Atlanta Public Safety Training Center. The release says that the officers "exercised restraint" and "used non-lethal enforcement" to detain 35 protestors. Police say 23 of those detained were eventually arrested and charged with domestic terrorism. No officers were reportedly injured in the altercation, according to ABC News.
"When you attack law enforcement officers, when you damage equipment, you are breaking the law," said Darin Schierbaum, Atlanta Police Department Chief of Police, at a press conference last night. "This wasn't about a public safety training center, this was about anarchy and this was about the attempt to destabilize."
Anti-police protestors, prison abolitionists, and environmental activists have been largely opposed to the construction of the so-called Cop City, which is a planned training facility for police, fire, and E-911 personnel that is currently being constructed on 85 acres of land in the city of Atlanta's South River Forest.
The center was approved by the city in September 2021 despite an estimated 17 hours of public comment from thousands of residents, with about 70% opposed to the project according to The New Yorker. Public pushback is mainly leveed against the center's alleged emphasis on militarization and how it may be used to train authorities to target people of color.
"To be clear — cop city is not just a controversial training center. It is a war base where police will learn military-like maneuvers to kill black people and control our bodies and movements," Kwame Olufemi of Community Movement Builders said in a statement on Stop Cop City's website. "The facility includes shooting ranges, plans for bomb testing, and will practice tear gas deployment."
Environmentalists, meanwhile, had hoped that the land could have been put to better use, for example towards the city's public park system. Forest defenders have been camping at the site of Cop City after it was greenlit by Atlanta in 2021, hoping that their refusal to move could stall or prevent construction.
In January 2023, environmental activist Manuel Esteban Paez Terán was shot and killed by police while camping in the area. The Georgia Bureau of Investigation claims that Terán, who went by the nickname Tortuguita, shot at approaching officers first, but his friends and colleagues don't believe the state's story since Terán preached nonviolence.