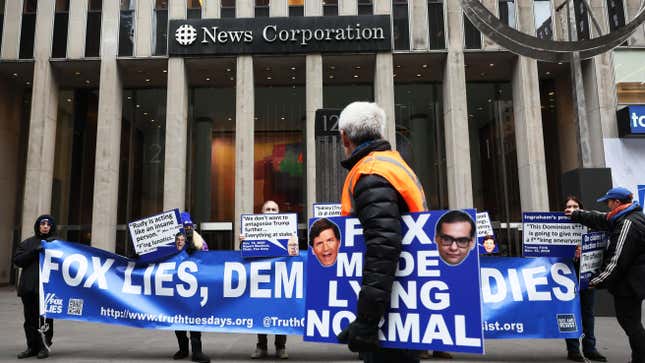 Fox News is going to need to rethink its strategy and excuses for why it promoted the lies of the 2020 election deniers. On Tuesday, a Delaware judge said during a pre-trial hearing that Fox News won't be allowed to try and convince jurors its promotion of the "big lie" conspiracy was all just regular journalistic practice covering a sitting president.

Twitter Is Shifting Right | Future Tech
"Just because someone is newsworthy doesn't mean you can defame someone," Delaware Superior Court Judge Eric Davis told Dominion and Fox's lawyers, according to The New York Times.
As the start of Dominion's $1.6 billion defamation trial against Fox News next week looms ever closer, Davis set several restrictions surrounding what arguments both sides could bring up. For the voting machine company's part, it's not allowed to bring up the Jan. 6 insurrection, as reported by the Times. Davis reportedly told both sides that the central question for the trial was whether Fox knew the election denial claims were lies, but aired them anyway.
It's a blow to both sides as they used those arguments in pre-trial work running up to the April 17 court date, though it's a specific kick in the pants for the right-wing news network. Up until now, Fox News had relied heavily on the "newsworthiness" argument in its ongoing defamation lawsuit against Dominion Voting Systems. The right-wing news network has also argued that its coverage was protected under the 1st Amendment and was a necessary part of covering former President Donald Trump and his cronies. The judge reportedly allowed Fox to call on these free speech protections.
In March, Fox lost its bid to quash the lawsuit, though Dominion now has to prove to jurors the network knowingly promoted false information, a notoriously difficult threshold called "actual malice."
Davis issued rulings on several motions during this last pre-trial hearing. According to CNN, Davis said Fox can't use the few times its reporters actually fact checked Trump's lies, as Davis said that "you can't absolve yourself of defamation by putting someone else on at a different time." Emails and texts from Fox News hosts and execs shown off during discovery showed how Tucker Carlson actively wanted Fox to fire reporter Jacqui Heinrich after she fact checked a Trump tweet.
Fox is also barred from bringing up Dominion's internal emails about staff complaints about how their voting machines "suck," as since those internal messages weren't public in 2020 and couldn't have influenced Fox's reporting. On the other hand, Dominion is cleared for bringing up Fox execs and hosts' salaries. The voting machine company has argued those internal messages prove Fox and its chairman Rupert Murdoch was more concerned about network ratings than the truth.
Murdoch is the CEO of News Corp, Fox News' parent company, and the chairman of Fox Corporation. During the pre-trial hearing, Dominion lawyers claimed Fox had concealed that Murdoch had a more official role as an officer at Fox News. Davis reportedly admonished Fox News for concealing that fact, as Dominion argued it would have taken a different tact during the pre-trial discovery step. For its part, a Fox spokesperson told CNN that Murdoch has been listed as executive chairman on Fox News SEC filings for years.
Judge Davis also told the court that he had received death threats for his role in the ongoing trial. Dominion's lawyers also discussed how the voting machine company's employees have also faced threats and harassment. Davis told the company it could mention the threats but not get into what those threats contained.