Tim Burton is returning to his 1984 short Frankenweenie with a full-length, stop-motion, black-and-white remake. It's about an introverted suburban kid who also happens to be a mad scientist...and how far he goes to see his beloved dog again.
We saw a little bit of footage from the upcoming movie at the D23 presentation yesterday. What little we saw looked like this was Tim Burton at his most Tim Burton-y, full of whimsical horror and imagery that was equal parts adorable and grotesque. Basically, if you were a fan of previous Burton stop-motion efforts like Corpse Bride or The Nightmare Before Christmas (which he produced, but didn't direct), then there's reason to be cautiously optimistic about this.
The movie is a feature-length expansion of a live-action short that Burton made in 1984. There's something faintly amusing about the fact that Disney was trumpeting the 2012 version at D23, considering the original short is what got Burton fired from Disney way back when for allegedly wasting company resources. It's appears the company's calculus has changed a bit in the last 27 years regarding Frankenweenie.
The movie is, as you might be able to guess from the title, a pastiche of the Frankenstein story, and it casts literature's most famous mad scientist as a suburban kid growing up in New Holland, a town that the movie's producers described as a cross between Transylvania and Burbank, California. While New Holland is full of quirky townspeople and monstrous pets - including a hamster that's also a mummy - young Victor Frankenstein still manages to be an outcast, content to be with his beloved dog Sparky and stay in the attic conducting experiments.
G/O Media may get a commission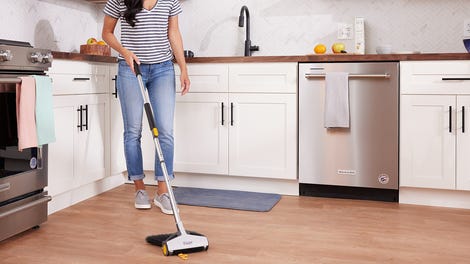 BOGO 50% Off
Flippr - BOGO 50% Off
Eventually, his dad tells him to go out and play, which leads Victor to try his hand at baseball. Tragically, during a game, Sparky is hit and killed by a passing car. Unable to accept the loss of his best friend, Victor begins a series of ungodly, cemetery-featuring experiments that will forever blur the line between life and death...and make Sparky even more cute, albeit in an undead sort of way.
At yesterday's presentation, producer Allison Abbate noted that Tim Burton reserves stop-motion for his most personal projects - you wouldn't use something as unimaginably time-consuming as stop-motion for something you didn't completely believe in - and that he had actually designed all the characters for the movie. They also announced some of the cast members, including previous Burton collaborators Martin Landau, Winona Ryder, Martin Short, and Catherine O'Hara. Longtime Burton composer Danny Elfman is also on board to do the score.
Here's Disney's official description for the movie:
From creative genius Tim Burton ("Alice in Wonderland," The Nightmare Before Christmas") comes "Frankenweenie," a heartwarming tale about a boy and his dog. After unexpectedly losing his beloved dog Sparky, young Victor harnesses the power of science to bring his best friend back to life-with just a few minor adjustments. He tries to hide his home-sewn creation, but when Sparky gets out, Victor's fellow students, teachers and the entire town all learn that getting a new "leash on life" can be monstrous.

A stop-motion animated film, "Frankenweenie" will be filmed in black and white and rendered in 3D, which will elevate the classic style to a whole new experience.

In Tim Burton's "Frankenweenie" young Victor conducts a science experiment to bring his beloved dog Sparky back to life, only to face unintended, sometimes monstrous, consequences.
Top image of Tim Burton's Frankenweenie art via.