A French ban on five neonicotinoid pesticides intended to protect the nation's bees from colony collapse disorder went into effect on Saturday, Agence France-Press reported.

Per AFP, the French rules ban all five neonicotinoid pesticides once cleared for use throughout the continent. Earlier this year, the European Union upheld a moratorium of three out of five types of neonicotinoid pesticides for use in fields: clothianidin, imidacloprid, and thiamethoxam. Those chemicals are now only allowed to be used in greenhouses throughout the EU. The French ban is much more extensive, restricting the use of all five even in greenhouse farming.
Neonicotinoid chemicals are similar in structure to nicotine and have been used en masse over the past two decades, which has made them a particular target of scrutiny among those seeking to explain mass die-offs of bee colonies across the U.S. and Europe in recent years. Scientists suspect that colony collapse disorder is caused by multiple factors. But recent research has found that the pesticides, by acting similarly upon insect brains to how nicotine does on mammalian ones, could in fact be getting bees hooked on poison. Other research has suggested that the neonicotinoid pesticides could be increasing some bees' vulnerability to varroa mite infestations or disrupting their navigation. So these pesticides likely play a big role.
AFP wrote:
Introduced in the mid-1990s, lab-synthesised neonicotinoids are based on the chemical structure of nicotine, and attack the central nervous system of insects.

They were meant to be a less harmful substitute to older pesticides, and are now the most widely-used to treat flowering crops, including fruit trees, beets, wheat, canola, and vineyards.

...The UN has warned that nearly half of insect pollinators, particularly bees and butterflies, risk global extinction.

This is particularly concerning in the context of a 2016 study which found that about 1.4 billion jobs and three-quarters of all crops depend on pollinators, mainly bees, which provide free plant fertilisation services worth billions of dollars.
G/O Media may get a commission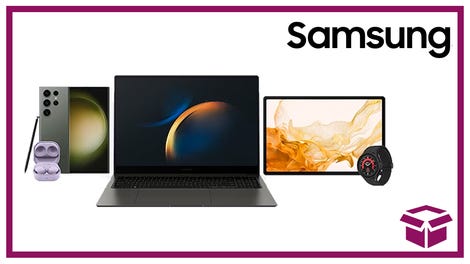 24 hour deals
Discover Samsung - Daily Deal
French farmers' organizations are obviously not happy about losing access to the pesticides, saying they are crucial tools in agriculture. Environmental group Generations Futures' Francois Veillerette countered, telling AFP that "We should not limit ourselves to this family" of pesticides and "Many others need banning too." The report noted that since the pesticides will remain in use for other pest control strategies outside of agriculture, the ban is unlikely to totally eliminate neonicotinoids from the environment.