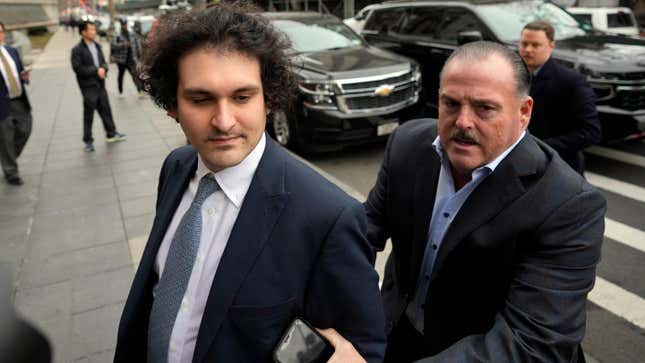 U.S. federal prosecutors have added yet another charge to the long list that fallen cryptocurrency founder, Sam Bankman-Fried, is facing. The former CEO of crypto exchange FTX is being indicted over allegations that he bribed Chinese government officials to the tune of more than $40 million dollars as part of his shady financial dealings. The news was first reported by Reuters, and comes from a legal document filed and unsealed Tuesday.

The superseding indictment alleges that Bankman-Fried (or SBF as he's commonly called) directed tens of millions of dollars to regulatory officials in China in order to get certain accounts unfrozen. China banned cryptocurrency transactions in 2021, and before that crypto activities were highly restricted and heavily regulated. In the crackdown preceding the outright ban, the country's government froze two trading accounts held by Alameda Research, FTX's sister hedge fund, that were operating on Chinese exchanges, per the new filing.
Combined, the accounts allegedly held about $1 billion worth of crypto. SBF and his lackeys reportedly tried to get the account unfrozen through various means including attempted clandestine transfers, appealing to the Chinese government, and hiring lawyers to help. None of those things worked, according to the indictment.
So, eventually, Bankman-Fried and company pivoted to bribery, per the new charges. "After months of failed attempts to unfreeze the Accounts [SBF] discussed with others and ultimately agreed to and directed a multi-million-dollar bribe to seek to unfreeze the accounts," reads the document. The prosecutors tie that allegation to a $40 million transfer from Alameda's main account to an anonymous crypto wallet. "At or around the time of the $40 million bribe payment, the Accounts were unfrozen," prosecutors noted.
Following that initial payment, the filing further alleges that tens of millions of dollars more were then transferred "to complete the bribe."
Prosecutors are arguing that this activity violates the anti-bribery provisions of the Foreign Corrupt Practices Act. Under the FCPA, it's illegal for a U.S. person or corporation to pay off foreign officials to maintain business relationships. Penalties for violating the FCPA and its anti-bribery provisions include fines of up to $2 million for businesses and $250,000 for individuals.
The new charge is the 13th one that SBF has been indicted on. His trail is currently scheduled to begin October 2, 2023—though the defense attorneys have requested a delay.
This article is part of a developing story. Our writers and editors will be updating this page as new information is released. Please check back again in a few minutes to see the latest updates. Meanwhile, if you want more news coverage, check out our tech, science, or io9 front pages. And you can always see the most recent Gizmodo news stories at gizmodo.com/latest.