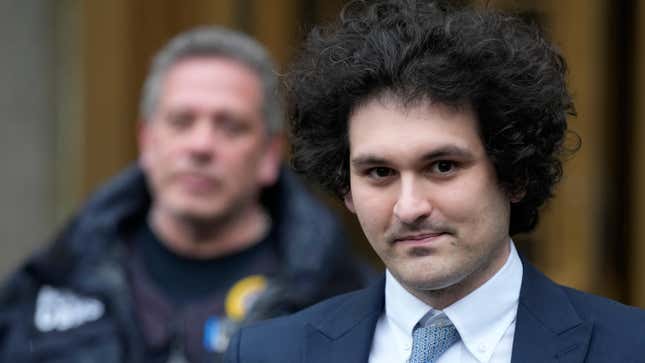 Before his spectacular downfall and the collapse of his crypto exchange FTX, former CEO Sam Bankman-Fried covertly and illicitly funneled millions of dollars of customer and company funds to political campaigns, according to a newly filed federal indictment.

The document, released Thursday, catalogues a laundry list of charges against Bankman-Fried (A.K.A. SBF), under the section header "Bankman-Fried's Multiple Schemes to Defraud." The detailed indictment outlines allegations of exactly how SBF enticed customers and investors to give him their money and then misappropriated (i.e. stole), and lost those funds. It also thoroughly explores the lies Bankman-Fried publicly told during and following FTX's implosion.
Among the accusations: That SBF, with the help of two other FTX execs, made hundreds of illegal "dark money" political contributions with money lifted from the coffers of FTX and associated hedge fund, Alameda Research. The allegations of political machinations within the indictment come as no surprise. Federal prosecutors have been investigating SBF's political donations for months now. The newly released 39-page document cites internal communications and bank records that support SBF's own past, leaked claims that he made secret donations, and help explain why 1 in 3 members of Congress received contributions from former FTX executives.
To be clear: Bankman-Fried openly made lots of donations to politicians, mostly centrist Democrats (fun fact: FTX has since requested those same politicians return that money). From the outset, these public donations were legally questionable, as they were made using company funds. "As he used Alameda to siphon off FTX's customer funds and deploy them for political causes [SBF] became one of the largest publicly reported political donors for the 2022 midterm elections," prosecutors wrote.
However, on top of the contributions made clearly in SBF's name, the disgraced cryptocurrency founder also coerced two of his executives to act as so-called "straw donors" and lists dozens of donations in their names. The purpose: to obscure FTX's and Bankman-Fried's association with the money and its intended political influence, according to the indictment.

Allegedly under SBF's instruction, those two execs—nicknamed CC-1 and CC-2—contributed to more progressive Democrats and conservative Republican candidates' campaigns, respectively. Many of these donations were reportedly coordinated through an auto-deleting Signal chat called "Donation Processing."
Bankman-Fried didn't want his company or personal brand associated with either political ideology, and so he concocted a coverup scheme. To quote the man himself, "All my Republican donations were dark. And the reason was not for regulatory reasons, it's because reporters freak the fuck out if you donate to a Republican because they're all super liberal."
You might be wondering why Bankman-Fried had such a vested interest in politics from his gilded perch as the golden boy of the blockchain. According to the indictment, his motivation was to keep regulators away from his precious cryptoverse. "The defendant, perpetuated his campaign finance scheme at least in part to improve his personal standing in Washington, D.C., increase FTX's profile, and curry favor with candidates that could help pass legislation favorable to FTX or Bankman-Fried's personal agenda, including legislation concerning regulatory oversight over FTX and its industry," prosecutors wrote.
In total, the shady donations made by SBF himself or his co-conspiring execs numbered more than 300 and totaled in the tens of millions. Internal messages quoted in the court document indicated that Bankman-Fried became concerned about "maybe 80m" of contributions in November 2022, at the beginning of FTX's solvency crisis.
Yet still, the fallen founder doubled down on claims that FTX was solid. "As recently as late 2022, Bankman-Fried boasted about FTX's profits and portrayed himself as a savior of the cryptocurrency industry, making venture investments and acquisitions purportedly to assist struggling industry participants," the indictment notes. But, "the reality was otherwise."
Nearly all of FTX's former customers have yet to see any of their funds returned, (aside from FTX Japan users who were helped by the country's strict financial regulations.) Many of the exchange's base lost thousands of dollars—some, their whole life savings.
Bankman-Fried faces multiple felony charges, to which he pleaded "not guilty" in January. The alleged fraudster is currently out on bail and living at his parents' multi-million dollar home in Palo Alto, California. His trial, in the District Court of Southern New York, is scheduled to begin October 2, 2023.