A new report from CoinDesk has found that 1 in 3 members of Congress—196 senators and representatives—received political donations from former FTX executives, including the disgraced former head of the company, Sam Bankman-Fried.
According to the report, published on Tuesday, 34 political campaigns have stated they will donate the money to nonprofits. Another group of 14 told the outlet they were holding on to the donations received and were waiting for instructions on how to return them. Ryan Salame, co-CEO of FTX Digital Markets, donated to the highest number of campaigns among the execs, giving to 93 politicians. Bankman-Fried followed, giving to 58, while Nishad Singh, FTX's former head of engineering, gave to 53.
Only five lawmakers who received money said they had successfully given it back, CoinDesk reported, and 143 didn't respond to inquiries.
On the Senate side, more than half of chamber's Democratic leadership caucus received donations, including Majority Leader Chuck Schumer of New York; Majority Whip Richard Durbin of Illinois; and Sen. Joe Manchin of West Virginia. In the Republican leadership caucus, only Minority Whip John Thune of South Dakota and Sen. Joni Ernst of Iowa received donations.
In the House, all five of the Republican leaders received donations, including Speaker Kevin McCarthy of California; Majority Leader Steve Scalise of Louisiana; and Majority Whip Tom Emmer of Minnesota. Only two of the four Democratic House leaders, House Minority Leader Hakeem Jeffries and Democratic Caucus Chairman Pete Aguilar, got FTX money.
G/O Media may get a commission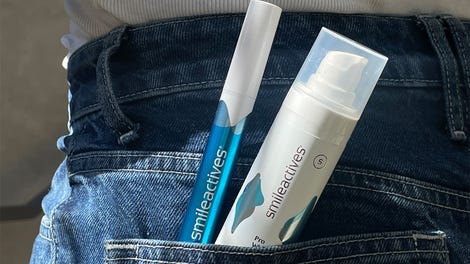 58% off
Whitening Powerhouse Pen & Gel Duo
While a good chunk of elected officials seems to want to donate FTX's radioactive money and get as far away from it as possible, it's unclear whether doing so would cause even more problems. In mid-December, FTX told people who had received donations from Bankman-Fried and other former FTX officers to get in touch with the company to return the money so that FTX could move forward with paying its creditors, of which there are more than one million.
In a statement, FTX explained that it would take donation recipients to court if they didn't return the money voluntarily. At the time, the company also cautioned against donating the money, implying that those who donate it would still be on the hook for paying it back.
"Recipients are cautioned that making a payment or donation to a third party (including a charity) in the amount of any payment received from a FTX Contributor does not prevent the FTX Debtors from seeking recovery from the recipient or any subsequent transferee," FTX said on Dec. 19.
However, as with everything involving the FTX bankruptcy, it's not so clear-cut to say that these donations should be returned. As noted by CoinDesk, the political donations received by lawmakers came from the personal money of FTX executives, which is not part of the company's bankruptcy at this time. If, during the bankruptcy process, a court decides that the money FTX executives gave to campaigns was a "fraudulent conveyance," then donation recipients must give the money back to FTX.
The CoinDesk report is the latest untangling of FTX's collapse, which sent shockwaves through the crypto industry. On Tuesday, the bankrupt company revealed that $415 million worth of crypto had been stolen from its accounts. It's not clear whether this stolen crypto is related to the hack FTX experienced in November, where an estimated $477 million was stolen.