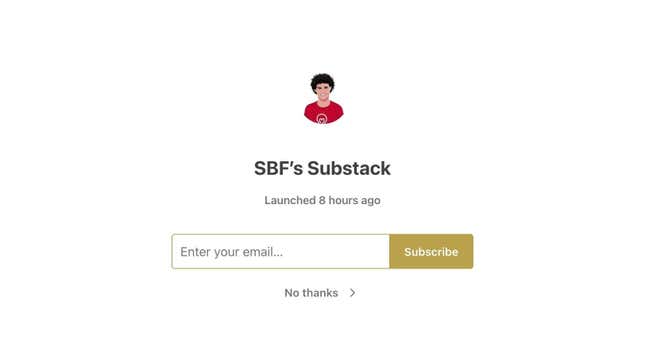 Some people, like disgraced crypto mogul Sam Bankman-Fried, really just don't know when to stop talking. Despite facing eight counts of U.S. criminal charges and living under house arrest, SBF, as he's often called, decided it was a good time to launch a Substack newsletter.

In his first post Thursday, titled FTX Pre-Mortem Overview, the founder re-hashed his version of events that led up to his cryptocurrency exchange's meltdown. Though rigorous reporting and federal investigations allege SBF may have defrauded more than 9 million customers through a years long web of illegal activity, SBF's blog paints a very different picture. In it, the founder tries to build a narrative where FTX, like so many other crypto firms last year, unluckily found itself on the bad-end of a digital asset downturn. SBF goes as far to say he could have remedied the situation himself, had he not been pressured by FTX's legal team to move forward with Chapter 11 bankruptcy proceedings. SBF, who has pleaded not guilty, makes no mention of two of his closest associates, who did plead guilty and are already cooperating with the government's ongoing case.

Overall, the newsletter largely re-hashes many of the points SBF made in the brief period between FTX's collapse and his early December arrest in the Bahamas, where he spoke loosely to just about every media organization that would listen. Since then, the founder had remained relatively silent, a practice legal experts say he should have stuck to from the start.
"The most powerful evidence a prosecutor can have is the defendant's own words, and Bankman-Fried is giving the government a gift," former federal prosecutor Moira Penza told The New York Times "If I were prosecuting the case, I would want him to keep talking, and if I were defending him I would be telling him to shut his mouth."