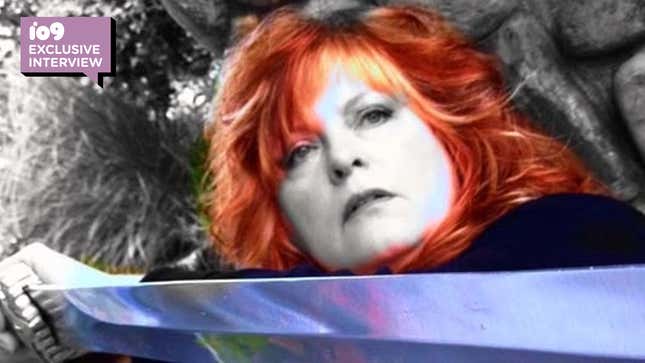 Gail Simone, the legendary comics author who first began writing for Dynamite Entertainment's Red Sonja in 2013, is returning again to the character for an all-new novel. While the character remains the same, this is not an adaptation of an older storyline, nor is it a movie tie-in; it's going to be a totally original story.
Exclusive "Violent Night" Deleted Scene Featuring David Harbour's Badass Santa
"Gail is a generational talent in the comic world who writes the hell out of Red Sonja, and her work on this project goes down like a shot of Stygian fire whiskey!" said Luke Lieberman, President of Red Sonja, LLC, in a written statement to io9. "The team at Orbit have been great partners in elevating Sonja's ever-growing legend."
Simone kindly answered a few questions about this new book over email.
---
Linda Codega, io9: What makes Red Sonja such a powerful, memorable character?

Gail Simone: I've thought about this a lot, personally. There are thousands of she-warrior characters, but there remains only one Red Sonja. She endures many different treatments in many different media, and people who love her, they love her with a passion that is incredibly endearing.

My own mother was the person who convinced me to first write the character, and she's never read a comic book in my life to my knowledge… she just loves Red Sonja. There's something in the character that has inspired her all her life, and I've met people like that all over the world.

Everyone loves something different about her. For me, it's her lack of apology for who she is… most of us stumble through life hiding who we are, and asking people to forgive us every time we make the slightest social error. Sonja lives, fights and loves and asks no one's pardon. It's lovely.

But also, the truth is, I think she simply has that secret factor, that star power, that makes one person a good singer and the other person Elvis or Beyoncé. In any story, when Sonja enters the room, you know a good time is on the way.

Thousands of imitators, only one Red Sonja.

io9: What are you most excited about with this adaptation?
Simone: Well, I feel incredibly lucky to be working with Orbit, who have been the best publisher anyone could ask for. They've been there for me (and Sonja!) every step of the way. They made us feel incredibly welcome and valued, and I'm very grateful for that. Their enthusiasm for our badass warrior is extremely gratifying. My first Zoom call with their team, they were wearing cosplay of characters I'd written, they had my graphic novels and merch on display, it just felt like I belonged immediately.
How I ended up with Sonja in the first place, it's a funny story, I briefly had a little free time in my schedule, and the publisher, Nick Barrucci of Dynamite Comics, asked me to write Sonja. I didn't have much time, my mom begged me to do it, so I reluctantly agreed to do just six issues, no more. By the time I was on my second issue, I asked to do six more. Then six more. Then a Zero issue. Then a major company crossover event. Then ANOTHER crossover book with all female writers like Tamora Pierce and Mercedes Lackey. And a lot more, all featuring Sonja, all written or show-run by me.
I just fell in love with her, and I can't seem to put her down and move on. She's become probably my favorite single character to write, and fortunately, our version has caught on with film and game companies, and finally prose… it's a joy I never expected.
We would never have been able to do it without reader support. And of course, at the heart of it, is Sonja's unbelievable charisma.
I am very thankful to Nick, Luke Lieberman (Sonja's license holder and guardian angel) and Orbit for this opportunity, they all love Sonja as much as I do.
io9: This is your first prose novel! What was that process like?
Simone: Someone should have warned me that it's quite a lot of work, I think! I loved doing it, in comics, you're always worried about the amount of real estate on the page every scene takes up. Here, I could expand her world a bit. It is interesting though, I'm used to having a brilliant artist realize the surrounding details of the story, here, I am tasked to do that myself, with the reader as co-conspirator and visual artist. It's an electric process… I love it.
I feel fortunate that I have a lot of A-list novelists to use as a sounding board and inspiration. I really wanted a barn-burner story, and fortunately, that idea can migrate mediums.
io9: Are there any Easter eggs or winks to fans that people might be able to look for in this novel?
Simone: Oh, absolutely, long-time fans of the character and her world will find little nods, but we also wanted a feeling of starting fresh, letting new readers have the same entry point.
Our story takes place while Sonja has abandoned her homeland, and is at the lowest point of her life. She essentially does the worst thing, the thing she will regret forever, and has to try to find herself again, try to be the hero she has avoided being. She goes on an emotional journey unlike anything I think she's ever had to face before, and it's thrilling.
It's Red Sonja, she's always going to misbehave, bless her lusty heart!

---
Gail Simone's Red Sonja novel will be available from Orbit Publishing everywhere books are sold; it's slated to arrive in the summer of 2024.
---
Want more io9 news? Check out when to expect the latest Marvel, Star Wars, and Star Trek releases, what's next for the DC Universe on film and TV, and everything you need to know about the future of Doctor Who.