Samsung's smartwatch is really real. And really awkward. We got some hands on time with the brand new ticker—called Galaxy Gear—and these are our first impressions.
Design
Galaxy Gear comes in six different colors that are reminiscent of playful Swatch wristwear. But Gear is a lot heftier than any old Swatch ticker. It has a big, rather sharp 1.63-inch diagonal display that dwarfs my wrists, which are rather small, but it would be bulky regardless. That said, any any smaller and you wouldn't be able to see anything. This is the the first problematic thing you notice about smartwatches.
The band is thick and stiff, but presumably it would loosen up once Galaxy Gear is broken in. It fits onto your wrist with a clasp like any other watch. But the screen slides around, and that's a little uncomfortable. Plus, wearing something this substantial would definitely take some getting used to, which is a common theme with the Galaxy Gear as a whole.
G/O Media may get a commission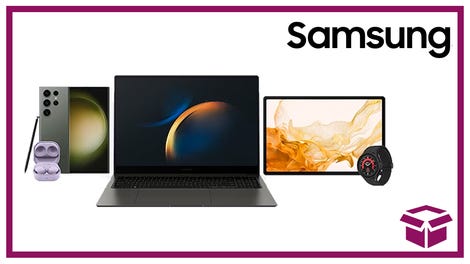 24 hour deals
Discover Samsung - Daily Deal
Using It
This is something you'll also have to acclimate to, because rather than your usual swiping and tapping that you've become used to with your smartphone, Galaxy Gear requires a series of vertical and horizontal swipes. On the home screen you see weather and time default (and no, you can't change it, it's fixed). Swipe left and right to see your different folders; there's one for settings, another for apps, another for your photos, one for the pedometer, and so on. From any folder, you can swipe down from the top to return to the home screen.
To move within folders you swipe up and down, which takes a little getting used to. It's something you'll figure out, but it just doesn't feel terribly intuitive.
The camera is located on the side of the strap you'd wear facing outward. Just swipe through your folders until you get there, at which point you just tap to take a photo. You can shoot video, too, by tapping another icon in the top left corner.
The camera is actually situated quite perfectly for creepshots. Seriously, I took three photos of a guy across the table and he had no idea. As far as he knows, I was just checking out my pedometer.
Performance
On first use, Galaxy Gear seems pretty responsive. It swipes quickly and smoothly between apps. We weren't able to test out texting, but we started a call that popped right up on the screen of the Note 3, more speedily than anticipated.
Overall, Galaxy Gear feels kind of awkward both to wear (it's chunky) and to use (it's unnatural, although that's to be expected since it's a new type of input). All that could be worth it, though, the fitness apps (which we weren't able to test) are killer, and if moving between your Galaxy smartphone and your watch are as seamless as it seemed to be in our test.
Granted, Galaxy Gear was chained to a table, so we didn't get to use apps and other features like email and S Voice. Walking around with the thing could be a whole different ball game. I would love to give Galaxy Gear a try with say, RunKeeper, for example, which I use all the time on my smartphone. The smartwatch seems like it would actually be better than the fitness trackers on the market right now because it has a screen and you can simply do more with it. But $300 is a lot for a souped up fitness tracker, and as far as the basic smartphone functions Galaxy Gear is capable of, those feel a little strange and counterintuitive.