Prepare to get excited and then probably set up for disappointment: an official 4K restoration of A New Hope exists... at least at Lucasfilm, according to Rogue One director Gareth Edwards. The real question, however: is it the fabled original theatrical cut fans have longed to see restored in full HD?

The salacious, teasing tidbit comes from an interview with Edwards for Little White Lies, in which the director casually acknowledges that, during a trip to Lucasfilm headquarters, he got to watch a newly-finished ultra HD restoration of the first Star Wars movie when he started work on Rogue One:
On day one, we were in Lucasfilm in San Francisco with Industrial Light and Magic and John (Knoll), our supervisor, he said that they've got a brand new 4K restoration print of A New Hope—it had literally just been finished. He suggested we sit and watch it.
So not only does one exist, it was seemingly pretty recently completed. And presumably, work has carried on since then to restore the other films in 4K. But whether or not Disney would be releasing the original Star Wars films in 4K isn't the real question up for debate—hell, it's almost inevitable. The question is, and one that Edwards artfully dodges in his answer, is if this was a restoration of the Special Edition cut of the film... or if it's a restoration of original theatrical cut, the cut fans have waited to see released in high definition for years and years. (We reached out to Lucasfilm for comment, and will update if and when we hear back.)
There have been rumors for ages that Disney was planning a release of the original cuts; they pretty much started up the moment the company bought Lucasfilm. The last time fans got to see the original cuts on an official release was in 2006 as a bonus included with DVD releases of the Special Editions—but they weren't exactly perfect restorations. Since then, fans have tried to make their own restored cuts, or even edit the Special Editions back down themselves, in an attempt to obtain a high quality theatrical version of the movies.
G/O Media may get a commission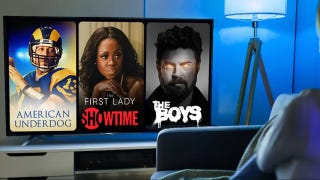 UNDER $1
99¢ Prime Video Channels
If Edwards did indeed sit down to watch a 4K restoration of the theatrical release of A New Hope, maybe, just maybe, they won't have to wait too much longer before Disney releases it themselves. We can but hope.
[Little White Lies via Birth Movies Death]