Live shows are supposed to be an experience, an experience which needs to be massive and visually arresting, especially when a band is playing an arena show. That's exactly why Kings of Leon is playing against the backdrop of a newfangled hybrid screen/lighting rig on its Mechanical Bull tour. But it's not the whole reason.
The U.S. leg of the tour just wrapped up over the weekend in LA, and the band is now headed to Mexico for a few more dates. They're carting this incredible screen with them along the way. Here's some footage of the setup from the tour's first show, at the Made in America Festival in Philadelphia on Labor Day weekend. It was the first time the team had used this display:
Footage courtesy Phear Creative
Casey McGrath, the band's creative director, who also directs a bulk of the band's music videos and produced the 2011 bio documentary Talihina Sky, told me that the point of the tech was to tell a better story. Which sounds like bogus branding talk, until you see the specs.
The Radiant MC-18 Hybrid screen is 74 feet wide by 38 feet high, and it has a 2:1 aspect ratio—a choice made specifically to give the visuals a cinematic effect. There are 32 by 32 pixels in each panel on the screen, each of which are embedded with low-res pixels to add depth.
On top of that, the screen simultaneously shows playback from McGrath and Kings of Leon's production team, as well as IMAG footage by video director Phil Woodhead, and although it isn't 3D, but it's supposed to feel 3D, and at times, 4D, thanks to real-life effects like snow inside the arena. And not to mention smoke. This is a rock 'n roll show, after all.
G/O Media may get a commission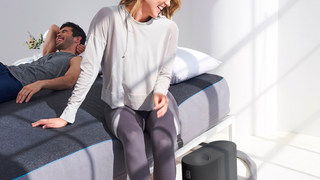 Eight Sleep Pod Cover
I haven't seen the tour first-hand, just footage and images provided to me by its creative team. But per McGrath, it's a comprehensive telling of the band's history in live concert form. Opinions on the music aside, there is a very clear vision behind the execution of the show. And it's one that's inherently tech-focused.
"What's unique about [the band] is there's this tension between their background and where they are in life," McGrath told me in a phone interview, referring to the band members' transition from growing up with a Pentecostal minister father to the rock star lifestyle of today.
"There's this constant tension between sin and salvation, and the images that were used to convey that—fire, water, flower, crosses, skulls—are expressing a specific style. We wanted this to be a very specifically Kings of Leon visual experience. We wanted to take things in nature and things that are very much a part of Americana and present them with the style. And the way to do that was in a way that was very technologically advanced way."
Whether the aesthetics are your cup of tea—or you can't read this post without thinking about the time Kings of Leon canceled a show in the middle of a set because a bird shit in the drummer's mouth—is beside the point. The screen is impressive, and it's the kind of thing you'll buy a ticket to see.
And depending on which city you see Kings of Leon in, the setup is different in order to adapt (key word!) to stadiums, festivals, amphitheaters, and so on. For the tour run, there were a total of five setups with different tile configurations and sizes. They are as follows:
Setup A: 1152 x 576 pixels, 36 x 18 Tiles, 71 ft x 35ft
Setup B: 1024 x 512 pixels-32 x 16 Tiles, 63 ft x 32 ft
Setup C: 896 x 448 pixels-28 x 14 Tiles, 55 ft x 28 ft
Setup D: 786 x 384 pixels-24 x 12 Tiles, 47 ft x 24 ft
Setup E: 640 x 320 Pixels-20 x 10 Tiles, 39 ft x 20 ft
Each time the Kings of Leon crew arrived in a new city, it was a rush to make the setup work in a new place. Different size and pixel configuration everywhere, got it. But the experience was just the same every time.