Hot Toys line of exquisite figures based on The Force Awakens has so far been all about the villains of the film. But now it's time for the heroes to get immortalised in plastic—and we're beginning with Daisy Ridley's lovely new heroine, Rey!
Sadly though, it seems like Daisy Ridley's features are a constant struggle for sculptors to grasp. None of her figures so far have managed a really good likeness, and while Hot Toys is the closest simply because it goes the farthest in trying to replicate likeness in the 1/6th scale, there's still something just ever so slightly off about this new Rey that it doesn't quite leap out.
I think it's the eyes. At certain angles, it looks great, but more head-on the eyes just look far too big—even though Ridley herself does have large eyes, on the toy it just looks like Rey's really eager to stare into the very fibre of your being. It's clearly something very tough to capture as a toy, and while Hot Toys' sculpt is good quality and a very admirable attempt, it's not quite as spot on as some of their past figures have been.
G/O Media may get a commission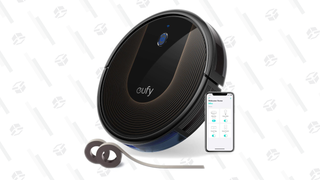 48% Off
Eufy BoostIQ RoboVac
But complaints aside, overall Rey looks pretty good. The tailoring of her clothes, is spot on, and she's got quite a lot of cool accessories. She comes with her trusty staff as well as a small blaster pistol, and all the requisite alternate hands to grip them with. If you're not the biggest fan of the sculpt, an alternate head is included that covers her up in the headwrap and goggles the character wears while using her speeder on the sandy planet of Jakku.
But, she also comes with an even better accessory: A 1/6 scale BB-8!
Coming in at 11cm tall, BB-8 has a poseable head and LED's in his dome to light up the eye and little buttons on the droid. On top of that, he's got some special weights in his lower half to stop him from accidentally trundling off the side of your shelf and into oblivion.
Rey and BB-8 are due for release in the middle of next year—and although they're not up for pre-order on Sideshow Collectibles just yet, you can probably expect her to cost a little more than your average Hot Toys figure, thanks to the inclusion of the world's most-talked about droid of 2015. Screw Star Wars tax, this is BB-8 tax!
[Hot Toys]
---
Toyland: We love toys. Join us on Facebook or follow us on Twitter.