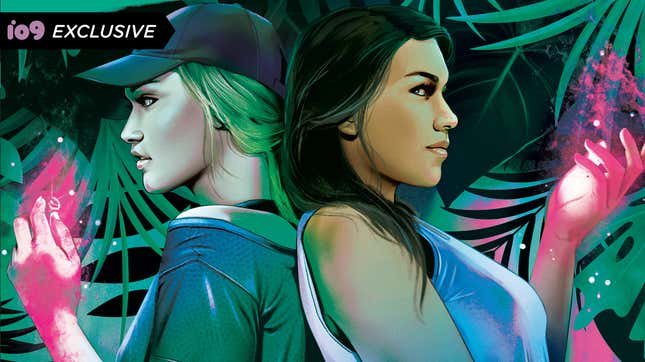 You might think the author of A Game of Thrones has enough to occupy his time, but when he's not making readers wait for his next book or toiling in the realms of TV, George R.R. Martin is known for elevating other sci-fi and fantasy writers. One way he does this: by presenting the long-running Wild Cards series, set in a world where an alien virus causes death, mutations, or superpowers among the infected.

Since the Wild Cards shared universe's arrival in 1987, it's grown to include dozens of books by an array of authors, created in different formats. But even if you haven't picked up any previous entries, each title—including novels, mosaic novels, anthologies, comics, and graphic novels; there was even a streaming series in the works at one point—is designed to be standalone, as long as you know the basic premise. Earlier this month saw the release of George R.R. Martin Presents Wild Cards: Pairing Up: An Anthology, edited by Martin with contributions from Melinda M. Snodgrass, Kevin Andrew Murphy, Marko Kloos, Bradley Denton, Peter Newman, Gwenda Bond, David Anthony Durham, and Christopher Rowe. The stories all explore the human heart, and are described as being "crazy, unconventional, touching, strange, and oh-so-familiar, this is love, Wild Cards-style."
That brings us to George R.R. Martin Presents Wild Cards: Now & Then: A Graphic Novel by best-selling author Carrie Vaughn, with illustrations by Eisner nominee Renae De Liz. It's out tomorrow, July 18, and io9 has a sneak to share today.
Here's what the story of Now & Then is about.
In 1946, an alien virus ravaged the world, its results as random as a hand of cards. Those infected either draw the black queen and die, draw an ace and receive superpowers, or draw the joker and are bizarrely mutated.

Over a year ago, the U.N.'s Committee for Extraordinary Interventions sent ace heroes Ana Cortez and Kate Brandt—Earth Witch and Curveball—to Brazil to investigate Aurora Mission, a charity that claimed to provide education and medical care for those affected by the Wild Card virus. But local ace and activist Gabriel Silva reported abuses. Ana and Kate helped him get to the truth, which turned out to be far more sinister than anyone expected.

Ana and Kate thought that case was closed, but now, a Brazilian official has questions. Did they do the right thing, or overreach their authority? The case amply demonstrates that, even in a world of incredible powers, there will always be victims.
Keep reading for an advanced peek at graphic Now & Then (available July 18), plus the cover of story collection Pairing Up (available now).