New York Comic Con begins tomorrow, and here are the list of panels and screening you cannot miss. From new Walking Dead clips and The Thing prequel footage, to Marvel panels, to an Assault Girls screening!
FRIDAY
How to Survive the Zombie Apocalypse
2:15 pm - 3:15 pm
You loved this panel last year, so why not check it out in the rotting flesh, and learn a few tips on zombie survival while you're at it?
MAD About MAD!
3:15 pm - 4:15 pm
Check out Cartoon Network's new MAD! TV show. Fingers crossed they show Spy VS. Spy clips.
Note to Spider-Man IV Movie People: Be True to Your Parker!
5:30 pm - 6:30 pm
This is a great idea. A group group of qualified Spider-Man enthusiasts, experts, and alum make a list of Spidey Do's and Spidey Don't's for the next Spider-Man movie. According to the official description: "Past Spider-Man writers and editors Danny Fingeroth (Superman on the Couch), Tom DeFalco (POW! Entertainment), and Fred Van Lente (Marvel, Evil Twin Comics), and psychologist Robin Rosenberg (Psychology of Superheroes) discuss their wish lists of aspects of Peter Parker's character and origin story that they'd like to keep the same and things they'd change for the upcoming film reboot of Spider-Man."
G/O Media may get a commission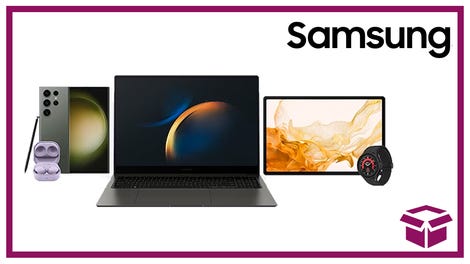 24 hour deals
Discover Samsung - Daily Deal
IDW - Sneak Peek at 2011
5:45 pm - 6:45 pm
What's next for IDW? "Please join IDW Publishing's Chief Creative Officer Chris Ryall and Special Projects Editor Scott Dunbier, as they talk Locke & Key with artist Gabriel Rodriguez, release some details about the giant event Infestation with some top secret guests, and even work in a big announcements or three, including a new project with Peter David & JK Woodward."
Dark Horse Comics
5:45 pm - 6:45 pm
"Join Dark Horse Director of PR, Jeremy Atkins, Managing Editor, Scott Allie, and Senior Editor Chris Warner, along with a host of the industry's top creators, for a first hand look at the future of the medium. With huge announcements to be made, this is one panel you don't want to miss!"
The Exorcist
6:30 pm - 7:30 pm
Never before seen Exorcist footage OK? Okay.
Robot Chicken
6:45 pm - 7:45 pm
Seth Green and friends make Star Wars jokes, and act generally adorable.
Monsters - Behind the Scenes
7:00 pm - 8:00 pm
If you liked the Mexico-set monster flick, check out this panel where you'll discover how they made it on a shoestring budget.
The Onion News Network presents "Future: News From The Year 2137"
7:15 pm - 8:15 pm
Now's your chance to get an up close and personal look at the ultra-funny Onion newscast from the future.
Mutant Girls Squad
7:45 pm - 9:45 pm
Do not miss this screening — along with a lot of the other amazing Asian films they are screening during NYCC. You will learn new things, including just how far you can push your personal level of human decency and tolerance for gore. While having fun!

MASTERPIECE and the BBC present the US Premiere of Sherlock
8:00 pm - 10:00 pm
A modern day Sherlock Holmes, with Arthur Dent, aka Martin Freeman, as Watson? From Doctor Who's Steven Moffat? Sold.

Venture Bros.
8:00 pm - 9:00 pm
Not to be missed — hopefully including plenty of new jokes about the saddest stripper breasts in the history of the world.
James Marsters Spotlight
8:45 pm - 9:45 pm
This is a spotlight panel, which means it's totally OK to geek out over the fact that Spike is in the building. No need to stay "on topic" with Marsters' recent projects — this panel is about Marsters and all his awesome works.
SATURDAY
Cosplay Dating Game
10:30 am - 11:30 am
"Nine different anime/video game characters attempt to win the hearts of our lovely bachelor and bachelorettes!" We're not sure what this means, but we're into it. It sounds like Singled Out for NYCC?
DC Universe
12:15 pm - 1:15 pm
Get your DC Comics updates at DC Universe — or at DC Nation, depending on when you're free.
Focus Features' Upcoming Adventure Thriller: Hanna
12:30 pm - 1:15 pm
Not especially science fictional, but we're very interested in Saoirse Ronan's role in this film as a 14-year-old killing machine, trained by her father (Eric Bana).
The Thing
1:30 pm - 2:00 pm
Behold the first ever footage from the brand new prequel to John Carpenter's The Thing.
THE LXD featuring JON M. CHU
2:30 pm - 3:30 pm
The League of Extraordinary Dancers assembles and stamps out evil with their awesome tap shoes and hip-hop dance moves.
Green Lantern: The Animated Series Presentation and Q&A
2:30 pm - 3:30 pm
Executive Producer Bruce Timm (Batman: The Animated Series), Producer Giancarlo Volpe (Star Wars: The Clone Wars) and Producer Jim Krieg (Ben 10: Alien Swarm) unite on stage to give you more details about the Green Lantern cartoon. Hopefully we'll get a first video look squeezed in there as well.
V Special Video Presentation and Cast/Producer Q&A
5:15 pm - 6:15 pm
Get ready for the next season of V as alien and human cast members take the stag with executive producer Steve Pearlman and talk about the episodes to come! Plus, they'll be screening never before seen season 2 footage!
Alien vs. Ninja
5:45 pm - 7:45 pm
Another screening you can't afford to miss — the title says it all.

Comedy Central: Ugly Americans
6:15 pm - 7:15 pm
Support your local animated heroes at the Ugly Americans panel. Here's a clip of our favorite Wizard from the series.

HASBRO & IDW
6:15 pm - 7:15 pm
I smell a Transformers announcement.
TRON: Legacy
6:30 pm - 7:30 pm
The Matt Patches hosts a very special Tron Legacy panel video game panel. Be on the look out for new game footage, and exceptionally nerdy unitard jokes.

Assault Girls
6:45 pm - 8:30 pm
Another "can't miss" film stuffed with violent women, winged lady warriors, dragon riders and BLOOD. Did I mention it's directed by Mamoru Oshii? Go see this screening!

SUNDAY
Vampire Girl vs. Frankenstein Girl
10:30 am - 12:00 pm
Start your day off right, with a screening of Vampire Girl vs. Frankenstein Girl.

Vampire Diaries Panel
11:30 am - 12:30 pm
Swoon over your favorite Vampires and their evil twins. Or vice versa, we guess.
The Making Of Star Wars: The Empire Strikes Back
12:00 pm - 1:00 pm
We're pumped up about this behind-the-scenes Star Wars book. Go and learn new details about how this sequel came to be.

Grant Morrison Documentary- Grant Morrison: Talking With Gods
12:45 pm - 1:45 pm
Expand your mind and and learn bizarre secrets about Grant Morrison in his documentary — here's a clip about working on Superman.

MTV Presents 'Unbreakable: Ten Years Later' With M. Night Shyamalan
12:45 pm - 1:45 pm
Fingers crossed M. Night starts the discussion off right with a heartfelt apology to Airbender fans. Then, we'll talk about the chances for Unbreakable 2.
MARVEL: Next Big Thing
1:15 pm - 2:15 pm
Well, what is it?
Oni Press Presents Panelmonium 2010
1:15 pm - 2:15 pm
What's next for the publishers of Resurrection, Scott Pilgrim and Guerillas at Oni Press?
Real Archaelogy of Indiana Jones
1:15 pm - 2:15 pm
What's real and what's fake in your Indiana Jones. Plus I promise the entire panel will be Shia LaBeouf free.
The Walking Dead on AMC
2:15 pm - 3:45 pm
Exclusive clips from the brand-new series, plus cast and crew members including Andrew Lincoln (Love Actually), Jon Bernthal ("The Pacific"), Sarah Wayne Callies ("Prison Break"), Laurie Holden (The Mist), and Steven Yeun ("The Big Bang Theory"). Joining the cast are writer, director, executive producer and three-time Academy Award nominee Frank Darabont (The Shawshank Redemption, The Green Mile) and executive producers, Robert Kirkman and Gale Anne Hurd (The Terminator, Aliens, Armageddon) will all be present.

Bruce Campbell Spotlight
4:00 pm - 5:00 pm
Gather and meet the man, the legend, Bruce Campbell. And now my favorite Bruce Campbell quote ever: