We want everyone to walk out of Gizmodo Gallery with a smile on their face. And if the unbelievable glee of having your face painted onto each one of your fingernails by the NILO II doesn't do just that, we've failed. Or maybe you hate fun?
I don't think it's an exaggeration to call the NILO II the purest encapsulation of human progress ever, hands down, the end. Just choose a design on the touchscreen display, stick your finger into the machine, hit print, remove your perfectly painted nail. It takes a human job and puts it in a machine. You know, like the future does. You're not afraid of the future, are you?
OK, so maybe that's a stretch, but this little automatic nail painter really is pretty darn impressive. The machine comes loaded with more than 1000 different designs, which run the gamut from tasteful matte colors to some serious tackiness. We're even crafting a few custom designs to load onto the machine as well. But what we're encouraging you to do—and we want to see as many pictures possible of this—is to take advantage of the NILO II's built-in camera. Take a picture of your face and get it printed onto all of your fingernails. It's the ultimate vanity. Who's number one? You are. Please do it. We'll post the best reader nail jobs on the site next week.
Gizmodo Gallery 2011 @ White Box
329 Broome Street. New York, NY, 10002
Monday, December 5th
Press Day, Press Only
Inquiries to media@gizmodo.com
Tuesday, December 6th
12noon – 5pm
All Day Special Event: World's Largest Multi-Touch LCD
Party: Opening Party Invite Only 7pm - 10pm
G/O Media may get a commission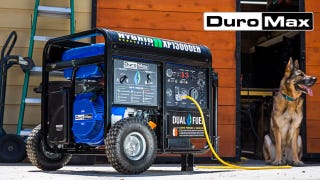 Black Friday Sale
DuroMax Generator Sale
Wednesday, December 7th
12noon – 8pm
Special Events (secret!)
Party: Gizmodo Reader Meetup and Nerf Party 9pm - 11pm
Thursday December 8th
12noon – 8pm
Special Event at 6pm: Home Theater How-To and Demo Session
Party: Kotaku Reader Meedup with 3D Gaming
Friday, December 9th
12noon – 8pm
All Day Special Event: MarkerBot Demos
Special Event at 6pm: Artist Talk - Micah Ganske's MakerBot Experience
Saturday December 10th
11am - 8pm
All Day Special Event: Free Pictures with Lego Santa Yoda
Sunday December 11th
11am - 6pm
All Day Special Event: Free Pictures with Lego Santa Yoda
Read more about the Gizmodo Gallery here and follow @gizgallery on Twitter. Special thanks to Land Rover - without them, there would be no Gizmodo Gallery.