People carp about Apple's rules about which apps can or can't be allowed into iTunes, and with good reason. Much of the allure of personal computers is that they let users decide what they want to install.
Apple's total control over the iTunes app store means that's no longer the case, if one or more of your personal computers happens to run iOS.
Apple does deserve some credit for app store openness. It admitted Spotify's iPhone app over two years ago, even though a Spotify mobile subscription makes people stop buying songs from iTunes.
Now, Apple has surprised us again by selling a $2 iOS app in iTunes that lets iPhone, iPod Touch, and iPad users stream music from their Music Beta by Google accounts, instead of from Apple's iCloud. Wait, aren't Apple and Google supposed to be cloud enemies?
The bolded titles are stored locally on the phone's memory, thanks to the Offline mode (more on that below).
Interactive Innovation Solutions' lengthily named gMusic: A native Google Music player ($2 introductory price) works - mostly - like a charm for playing the up-to-20,000 songs stored in your Google music locker. Simply enter your Google account name and password, and the app displays all of your songs, albums, playlists, artists and genres in an easy-to-navigate menu. Changes made to your Music Beta by Google locker are reflected nearly instantaneously on your iPhone.
G/O Media may get a commission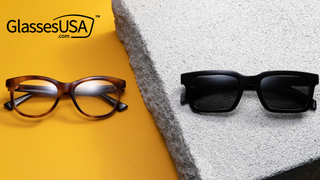 60% off frames
GlassesUSA.com Back to School Sales
Other than that, it works much like Apple's native Music player, except that the songs come from Google's music locker, instead of from your iOS device's memory or iCloud.
We did encounter bugs. The app crashed twice within ten minutes, and attempting to play music in Airplane Mode caused a recursive error message about not being able to access the server. The only way to make that go away was to kill the app and start over.
One feature won us over as soon as we stumbled across it, although it's not perfect: the ability to save any song, album, artist, playlist, or genre for offline playback. As a New Yorker, I appreciate the ability to listen to cloud music on the subway, but this inclusion is crucial for anyone who drives a lot, lives in an area with spotty coverage, or - perhaps most of all - isn't grandfathered in to an unlimited data plan.
Camel-like, you can fill up on tunes from WiFi then play them as you go about your day, without losing any of your monthly megabytes. To do this, just tap the triangle next to anything in a list and pick Offline.
But - and this is a big but for frequent flyers - if your iPhone is in Airplane mode, the gMusic app doesn't run. So even if you've carefully selected some music for your flight and stored it offline, it won't play on the plane. This is a silly omission, and we expect IIS to address it eventually.
Even if it doesn't, gMusic proves two important concepts.
First, Apple will approve apps that play music from other companies' storage lockers - even direct competitors to its own iCloud service.
Second, app developers are able to build third-party apps that play music from Google's storage locker, which gives them all sorts of options. Jogging, driving, dancing, DJ-ing, remixing, ringtone-creating, karaoke, videogaming, socially-sharing, and any other kind of music app can tap the user's Google music locker for tunes. The same is possible with iCloud, at least after the songs download.
It's a great time to be a music fan when powerhouses like Apple and Google can handle your cloud storage needs, and you can still use whatever app or phone you want to play it back.
Evolver.fm observes, tracks and analyzes the music apps scene, with the belief that it's crucial to how humans experience music, and how that experience is evolving.