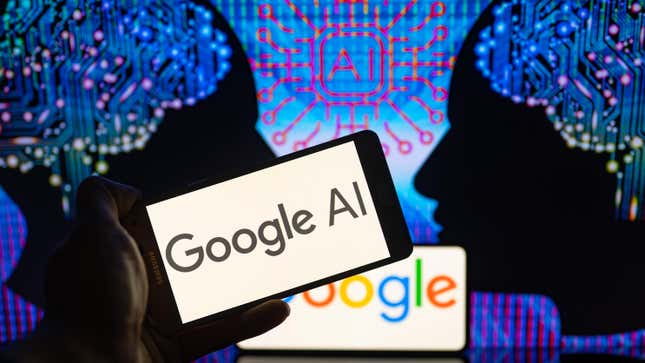 Google AI releases lack a spark, that certain "je ne sais quoi" that would give Google an edge in the hamster wheel rat race that is AI development, and even the engineers inside the company know it. According to Bloomberg, a leaked internal document from a senior software engineer shares concerns that the company simply isn't in a position to win the AI arms race. Why? Because, in the engineer's words, it lacks that "secret sauce."
Generating Video Via Text? | Future Tech
Is it that overrated, over-referenced szechuan sauce? Perhaps it's more classy, like a traditional Texas barbeque wet rub? Moreso, Google's AI offerings lack an inherent value that free AI models already provide. The paper, which was reportedly written by Google senior software engineer Luke Sernau makes it clear Google isn't "positioned to win this arms race." According to the leaked document published online by consulting firm SemiAnalysis, Sernau said Google's AI releases like Bard are slower and less customizable than other companies, especially those coming from open source communities. He even says OpenAI, the dominating firm spitting out AI models in partnership with Microsoft, isn't ready for the future either.
"While our models still hold a slight edge in terms of quality, the gap is closing astonishingly quickly. Open-source models are faster, more customizable, more private, and pound-for-pound more capable. They are doing things with $100 and 13B params that we struggle with at $10M and 540B. And they are doing so in weeks, not months."
The senior engineer cites open source AI chatbots like Vicuna-13B, a system trained on Meta's LLaMA language model. The open source model is "lapping" Google with major problems like hosting large language models on phones and scalable personal AI already making waves. Meanwhile, there's also the AI image generators like Stable Diffusion, whose open source model set itself up for far more enterprise integrations than OpenAI's DALL-E 2. This does ignore the reports that SD-maker Stability AI has not been doing too well financially and has actively tried to expand its business-to-business options.
"Our best hope is to learn from and collaborate with what others are doing outside Google. We should prioritize enabling 3P integrations," he wrote. "People will not pay for a restricted model when free, unrestricted alternatives are comparable in quality. We should consider where our value add really is."
Sernau reportedly published the report in April, and since then it's spread throughout the company until it was finally leaked to the wild. The doc isn't an official company strategy, and these kinds of documents are routinely spread internally. A company spokesperson told Gizmodo that "we're energized by the activity in this space and the new opportunities it creates."
Still, the document shows there's a deep contention within the company surrounding its AI strategy. So far, Google's main focus has been trying to fight off Microsoft which has fully introduced its Bing AI into its search browser and Windows 11.
That focus on competition has led Google to become even more of a closed ecosystem than before. On Thursday, The Washington Post reported based on two anonymous sources that Google's lead on AI Jeff Dean told staff they would no longer be sharing their research with the world, at least until Google has an actual product it can sell. It's the same tactic OpenAI is taking with its own research, as it cited competition for why it didn't reveal anything about its language model's training set.
The senior software engineer seemed to reference this new development in his paper. He criticized the company for trying to keep its technology secret when Googlers can easily leave and bring their knowledge of Google's processes with them. Sernau said it's better to "learn from each other" than hold tightly to their proprietary data.
As for ethical AI, Sernau implies the entire problem is "obviated" by restriction-less AI diffusion models like CivitAI. Of course, Google has been hammering on their "responsible" AI development. Though employees have reportedly been less than enthused about how ineffective and wrong the AI often is, and just this past week prominent AI researcher at Google Geoffrey Hinton left the company to quickly warn about the dire consequences of unsuppressed AI development.
Meanwhile, Sernau takes the opposite tact, saying unrestricted AI made on an open source model will inevitably win.
"Who would pay for a Google product with usage restrictions if there is a free, high quality alternative without them?" he said.
---
Want to know more about AI, chatbots, and the future of machine learning? Check out our full coverage of artificial intelligence, or browse our guides to The Best Free AI Art Generators, The Best ChatGPT Alternatives, and Everything We Know About OpenAI's ChatGPT.
Update 05/05/23 at 10:54 a.m. ET: This post was updated to include a comment from a Google spokesperson.